4 Nature Trips Within a Short Drive of Darwin
As the capital of the Northern Territory, Darwin is a cultural gem of a city. Without even leaving town, you will find plenty to see, do, and explore, including the Museum and Art Gallery of the Northern Territory and a selection of beaches and recreational zones like the Bicentennial Park. But if you do feel like embarking on a quick jaunt, you will discover that Darwin offers you access to a number of beautiful wilderness parks—all within a short drive in your campervan or motorhome.
1. Charles Darwin National Park
For this particular day trip, you do not actually need to drive out of Darwin at all! The Charles Darwin National Park is located close to the city centre along Tiger Brennan Drive across from Bowen Road. You can drive there or cycle.
Once you arrive, you can explore protected wetland including 36 species of mangrove. Go mountain biking, bushwalking, or simply embark on a casual stroll to watch birds and other wildlife. There are a variety of ranger guided activities in the park as well as a number of historic sites. A display provides educational information on World War II, in which the city played an important role.
2. Djukbinj National Park
Technically, Djukbinj National Park is not all that far from Darwin, but thanks to indirect roads, it takes several hours to drive there. This coastal park is open year-round, but 90% of the rain falls between December and March, so access can be limited during those months.
In the park, you can take a scenic drive through the billabongs. You will likely see numerous herons, egrets, and geese during their breeding season. There is also a cultural drive you can take to Twin Billabong from Scotts Creek. As this is a day-use area, you will need to park your motorhome nearby (a caravan park just outside of Darwin would be a good option).
3. Litchfield National Park
A shorter trip is the hour and a half long drive from Darwin down to Litchfield National Park. This is a park you definitely won't want to miss if you're staying in Darwin; it is one of the most remarkable spots in the Northern Territory. Here you can splash in clear pools of water under cascading waterfalls.
Litchfield is home to Australia's famous magnetic termite mounds—unusual and astonishing insect constructions which rise up to three metres off the ground. Mysteriously, all of these mounds are directionally aligned. Entomologists still are not sure why. Regardless of the reason, they are a spectacular sight to behold.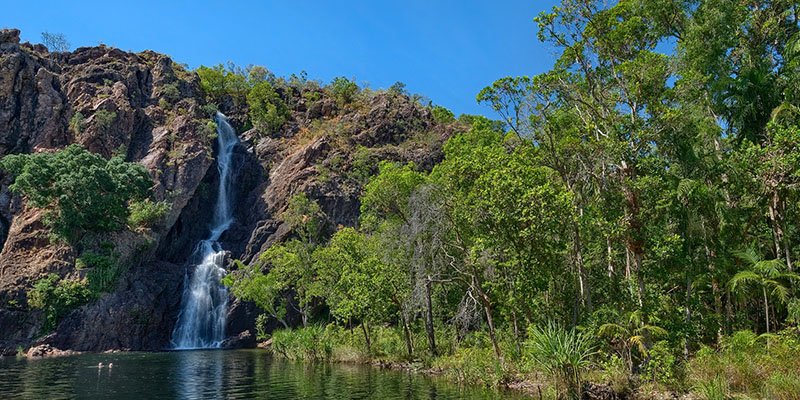 4. Kakadu National Park
Only a slightly longer distance from Darwin is Kakadu National Park. It takes around an hour and 40 minutes of drive time to reach this massive park. Here you can explore everything from wetlands to sandstone to coastline and more. Over 2,000 species of plant life flourish here. The wildlife is astonishing; Kakadu is home to 10,000 crocodiles (freshwater and salties), spotted quolls, and remarkably colourful orange, black, and white Leichardt's grasshoppers—found in only three places in the entire world.
So you can see—you don't have to go far from Darwin at all to experience Australia's stunning scenery and marvellous flora and fauna. Rent a campervan and start planning your itinerary today!