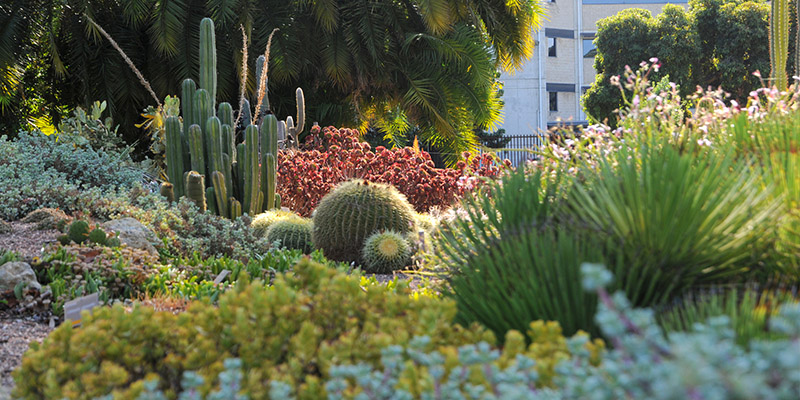 North Terrace, Adelaide SA 5000, Australia +61 8 8222 9311 Website 7:15am – 5pm Adelaide Campervan Hire
yorktonadze23 (contributor)
There are three Botanic Gardens in the Adelaide area:
The Adelaide Botanic Garden
Mount Lofty Botanic Garden, and
Mittunga Botanic Garden.
The now 125 acres Adelaide Botanic Garden which opened to the public in 1857, at the Eastern end of North Terrace, is the most accessible of the three. That doesn't mean you should just go there. They are all very different and each very much worth a visit.
The Adelaide Botanic Garden is packed with things worthy of your time. You could easily spend a day in here. Allow yourself at least 2-3 hrs and more if you want to eat. Take a map from the information stand as you enter the gardens and just stroll around.
Inside at the Garden
The Palm House – A restored Gustav Runge designed Victorian glasshouse imported from Bremen, Germany in 1875. It is thought to be the only one of its kind still in existence. Contains a collection of plants from the island of Madagascar.
Bicentennial Conservatory – Designed by South Australian architect, Guy Maron and built in celebration of Australia's 1988 Bicentenary. It is the largest single span conservatory in the southern hemisphere and contains a lush display of lowland rainforest plants from northern Australia, Papua New Guinea, Indonesia and the nearby Pacific Islands. Keep and eye out for noisy pitta birds, stick insects, spiders and centipedes.
Amazon Waterlily Pavilion – built in 2007 and as its name suggests its contains a beautiful selection of Amazon waterlilies which grow up to over 150cm diameter.
Santos Museum of Economic Botany – opened in 1881 this is the last purpose-built colonial museum in the world. The building features high ceilings, ornate Victorian detail, historic cabinet displays and a classical Greek-style exterior.
Outside at the Garden
Mediterranean Gardens – plants from the five Mediterranean climates around the world:
• south-western Australia
• South Africa
• central Chile
• California
• the Mediterranean Basin
Australian Native Gardens – showcases innovative and artistic ways of using native plants at a domestic scale
Classground – Experimentation area and in my view one of the nicest parts of the gardens – don't miss it.
International Rose Garden – over 5000 roses
National Rose Trail Garden
Eremophilia Garden
Cycad and palm displays
Cactus and succulent Garden
Garden of Health – demonstrates the use of plants to heal and promote health and wellbeing in western and non-western cultures
Economic Garden – herbs
Australian Forest
Wetlands
Avenue of Morton Bay fig trees – oldest in Australia.
The garden also includes a lake, various sculptures, bandstands, rotundas and ample seating all of which add to creating the perfect atmosphere for a pleasant and peaceful visit.
Tours
Guided tours depart from the Visitor Information Centre at Schomburgk Pavilion at 10.30am daily (except Christmas and Good Friday).
Free self-guided tours of Adelaide Botanic Garden are also now available on your iPhone or android phone. For more information or to download the MyParx app, visit http://myparx.com/go/app/
Opening hours : Opens Mon-Fri 8am , weekends and holidays 9am. Closes – around dusk – varies from month to month. Access to buildings generally 10am – 4pm. Check website below for specific details
Facilites – The Garden contains two restaurants/kiosks and a garden shop which also sells plants and seeds. Restrooms are available at various locations at various locations.
Admission Fee : Free (Including the Bicentennial Conservatory which formally had a charge).
This is the last of my "North Terrance" reviews. I invite you to return to my main Adelaide page now and leave a comment as I greatly appreciate the feedback. Should you wish to read my reviews on another area of Adelaide you can follow the relevant link on that same page.
---
figuresopen (contributor)
The Botanic Garden is a pleasant place to spend some time. For visitors like me from the northern hemisphere, it's particularly interesting to watch the (mostly unfamiliar) birdlife, which includes Rainbow Lorikeets and Eastern Rosellas. We were visiting in the winter time, when the gardens are perhaps not at their best, but they were well worth a visit. I'm just sorry that we didn't get to see everything.
The Amazon Waterlily Pavilion houses the massive Victoria amazonica waterlily. I had seen these giant lilypads before, but not with information plaques describing the lily flowers as a 'nightclub for beetles', complete with an hour-by-hour description of the goings-on. At 5.00 p.m., as darkness falls, the lily fills the air with heady scent (a mixture of tuberose, banana and pineapple) which is "guaranteed to attract beetle business" apparently. By 8.00 p.m. the beetles are arriving on the easily visible white flowers, and proceed inside for "food, drink and dancing." I'll leave the rest to your imagination.
The Palm House, originally built in 1877 and restored in 1992 is one of the last of its kind anywhere in the world.
Another glass house, completed in 1989 to celebrate the bicentenary of Australia, houses endangered rainforest plants.
With recent UK court cases in mind, I was slightly amused to walk up Murdoch Avenue, lined by giant fig trees and sponsored by News International – being led up the garden path by the press once again.
There is a Kiosk Café where you can get tea and coffee, sandwiches and cake, a proper cafe, Café Fibonacci, as well as a rather nice restaurant for formal dining.
Free Admission
---
quackof (contributor)
125 ACRES OF BOTANIC GARDENS………………
A lot of walking, or perhaps just choose what you are interested in.
If you have children, then bring along some bread, because in the centre is the large Lake and the Restaurant or Simpson Cafe, both overlook the lake. I always find it a beaut area to spend some time. We were here in May, and the Autumn leaves were quite lovely.
The International Rose garden is a must see in Summer when over 5,000 roses are in full bloom. January & February is the time to come and see it at its best!
It's a chance to see Australian bred roses, single roses, heritage roses and pillar roses, Hybrid Tea and Floribunda Roses.
If you are interested in Australian plants, you will find them in the Australian Native Garden. They are quite different to flowers you find in other parts of the world.
The Amazon Waterlily Pavilion is a glass palace for the Victoria amazonica waterlily.
Fairly new as it was built in 2007 to replace the Amazon Waterlily's original residence, the Victoria House. The original pond from the Victoria House remains as the centrepiece of the new pavilion.
Open 10 – 4pm daily
So you can see, there is plenty to keep you occupied here.
I hope you have a chance at least for a quick look!
---
mingedakota (contributor)
After visiting the Zoo, why not take the short walk to the Botanic Gardens like I did. NO need to go to the North terrace entrance, instead, follow the pathway along Plane Tree drive which runs alongside the Botanic Park.
You come across the ornate entrance gate to the Botanic gardens, and the lovely historic gate house. This leads along Moreton Bay Fig road, where the massive Moreton Bay figs line each side of the road.
If you want, you can walk straight through the Botanic gardens, and come out at North Terrace.
Another option, is to walk along Plane Tree drive to the Bicentennial Conservatory to see the lush lowland rainforest plants from northern Australia, Papua New Guinea, Indonesia and the nearby Pacific Islands.
A lower walkway takes you across the forest floor and an upper walkway into the canopy of trees and palms. Birds, insects and more are here to create a balanced ecology.
It is the largest single span conservatory in the southern hemisphere.
I have been before, so didn't go on this visit. When I went last time, I thought it was very good.
Remember, it is quite warm inside, because they create humidity for the plants to grow.
FREE ADMISSION
Opening hours….Daily 10am-4pm (5pm during daylight saving).
The Adelaide Botanic gardens are FREE OF CHARGE.
OPEN….Weekdays – 8am…….Weekends & public holidays – 9am
CLOSING TIMES…..December-January – 7pm……February-March – 6.30pm
April – 6pm….May – 5.30pm…June-July – 5pm….August – 5.30pm
September – 6pm……October-November – 6.30pm
Ticketed car parking is available in Plane Tree Drive off Hackney Road.
Free guided walks….Depart from the Visitor Information Centre at Schomburgk Pavilion at 10.30am daily (except Christmas and Good Friday).
---
muonuk (contributor)
Built as the name suggests to celebrate Australia's Bicentenary which was in the year 1988.It is the largest single span conservatory in the southern hemisphere. Inside the conservatory are lowland tropical rainforest plants from northern Australia, Papua New Guinea, Indonesia and the nearby Pacific Islands. There are two levels to view the plants, a ground floor walkway and a bridge to see above the dense foliage. The whole building is run by a computer that monitors the temperature to keep it at the proper humidity. There are over thousand water nozzles that keep everything suitable damp.
Daily 10:00am — 4:00pm (5:00pm during daylight saving).
For group bookings please contact (61 8) 8222 9311.
Admission:
Adults $4.30
Child/Concession $2.30
Family $10.00
(2 adults and accompanying children under 15 years old)
---
highlandset (contributor)
A little peace and quiet in the city, I tried to visit every botanic gardens in every Australian city I went to.
Adelaide was great for sculptures, there was one round every corner, plus a few green houses too, ponds, lots of local and national planting and lots of information about the gardens on boards around the place, yo can go and see the huge Victoria water lily in a purpose built green house.
It was established in 1854 on a 41 acre site, they acquired another 84 acres north of the Garden in 1866.
Opening hours
Weekdays 7:15am. Weekends and public holidays 9:00am
Closing times vary throughout the year.
Admission charges apply for the Bicentennial Conservatory, otherwise entry is free.
---
Latest Images of Botanic Garden, Adelaide