Barossa Valley and Wineries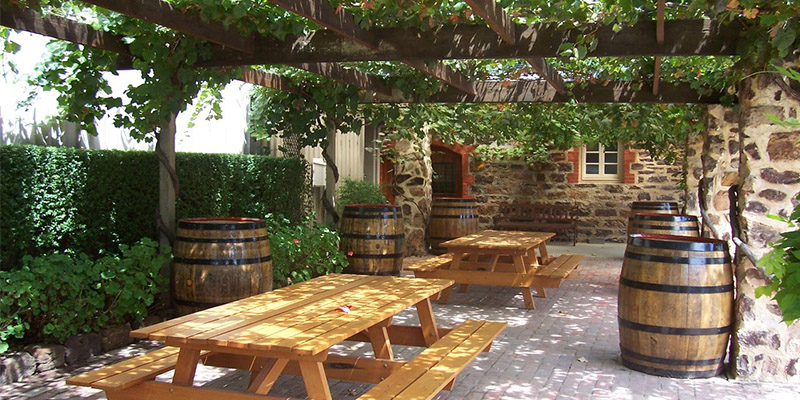 34 Barossa Valley Way, Tanunda SA 5352, Australia +61 8 8563 0288 9am – 5pm Adelaide Campervan Hire
operarad (contributor)
We had a fantastic time on this tour, I loved it!
We got off nice and early, picked up from different hostels around Adelaide and our first stop was to a greasy spoon to line our stomachs and see the worlds largest rocking horse.
First winery was Jacob's Creek, there's only a dried up river bed, no creek, so began our wine tasting nice and early around 10.45……
Next was Richmond Grove Winery which was in a lovely setting and we got to go around the factory, in the cellars and bought a bottle of wine to share at lunch. We had a Aussie BBQ Lunch in the grounds of the winery which was lovely, fresh kangaroo, salads, saussages, burgers, more than enough.
So feeling very merry our next stop was Tanunda to look at the sweet shop. Next was Bethany Winery and finally another which by that point I can't really remember much appart from there was about 20 wines to try and I did my best.
On the way back to Adelaide we stoped at a bottle shop and stocked up for the ride home, the driver kept us very merry throughout the trip, we were dropped off at a bar in Adelaide and carried on from there……
We got a few bars in, which I can't really remember either.
Incidently my Aunt and Uncle did this tour about a month ago, so it's not just for young backpackers.
---
entirecupboard (contributor)
Barossa Valley is a wine region in South Australia. You will find a lot of vineyards and farms/factories who manufacture Australian wine. As I am not drinking wine, it is still a visit worth. You can visit one of those many farms/factories.
I went to Seppeltsfield Winery. This winery is on hour's drive from central Adelaide.
You can have a heritage tour. The tour goes through the gardens, palms and heritage buildings. The duration is 45 minutes (including tasting). It will cost you $10 per person. These tours are daily at 11.30am, 1.30pm and 3.30pm. When you are a group of 10 persons or more bookings are essential.
Fax: +61-(0)8-8562-8333; email seppeltsfield.cellardoor@seppelt.com.au
Open 7 days 10.30am – 5pm
General information about Barossa Valley, look at this website:
www.southaustralianhistory.com.au/barossa.htm
---
chotsub (contributor)
Took a day-tour into the Barossa Valley via Prime Mini Tours. It was A$48 each circa 2001.
Gave new meaning to the word "Family Tree". As we reached into the town of Springton, the coach dropped us off to see an "oddity" – the Herbig Family Tree – someone had actually carved out their family history into a hollow gum tree trunk. Inside the hollow trunk, not only could you get to know the Herbig family a little better, you could also catch valuable glimpses of the lives of early settlers of the area from the many photographs.
This hollow tree trunk was actually a 'home' for Johann Friedrich and Anna Caroline Herbig and two of their 16 children until 1860 when it got too small. Being poor, living in the hollow trunk saves money. Both of them will go on to have 16 children. Somewhere along the line, Friedrich will save enough money to buy land that he could call his own and build a house to accommodate his expanding family. Friedrich died in 1886 but Caroline would live on till 1927.
The next stop was for lunch at the Barossa Junction Resort. The meal is included as part of the tour. I remembered most of the members of the tour went for the "Kakadu Trio" – Pan-fried trio of kangaroo, crocodile and burrumundi.
---
ricosulfur (contributor)
If you want to sample some great Australian wines then take yourself on a wine tour. The Barossa Valley is the second closet wine region to the CBD (after the McLaren Vale).
I recommend researching this part of your trip quite a bit. A day trip is fine, but a day or two would be even better.
Taking turns as driver can mean you could spend a couple of days tasting wines and seeing the local sights. Otherwise there are many tours operating that you could join.
"The Barossa offers the combination of a rich European heritage and the fresh vitality of Australia. Premium wines, fine restaurants, magnificent old churches, wineries and cottages, traditional music, butchers and bakers, all in a peaceful rural setting where each season accentuates the beauty of the vineyards and the undulating hills."
---
skypeallocates (contributor)
Decided to go to Barossa for the Queens bday hols as I needed a breather away from work.
Barossa is around an hours drive away from Adelaide. SA is the major wine growing state and Barossa being the main area for grape cultivation and wine making.
Depending on whether you take a tour or go on your own, a wine tour usually has sampling a wide range of reds, whites and fortified wines.
This pic was at Langmeil Wines – and the vines behind is one of the oldest vines in the region – being more tha 140 years old.
---
thawwing (contributor)
Took a day-tour into the Barossa Valley via Prime Mini Tours. It was A$48 each circa 2001.
4 Winery visits were included in our itinerary. Unfortunately, none of us are wine lovers so we just went along for fun, unlike folks who were there really to sample the wines and see what they might want to buy. We opted for this cheaper tour since we aren't connoisseurs. Good wine would have been wasted on us.
The 4 wineries then (circa 2001) were:
Chateau Dorrien: Had my first pictures taken with grapes here.
Orlando Wines: Home to "Jacob's Creek".
Miranda Wines: They have this pink Shiraz that was made from red grapes that had the skin peeled off. Very novel.
Chateau Yaldara: Amazingly preened and landscaped grounds. The most pompous of them all. It really looked obstentatious – great for photography!
---
Latest Images of Barossa Valley and Wineries, Adelaide