Berry Springs Nature Park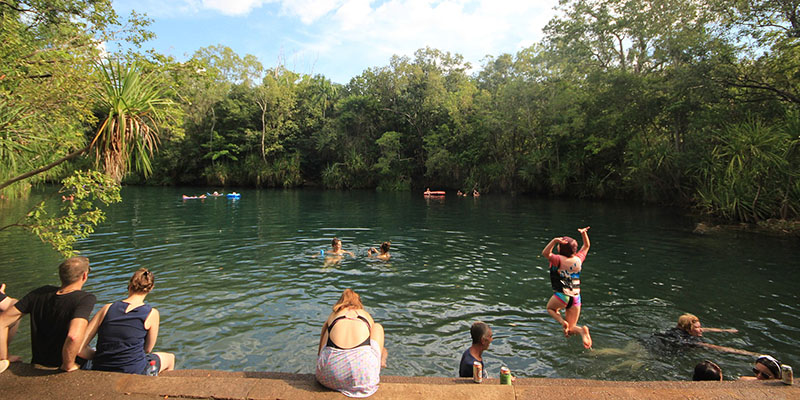 Cox Peninsula Rd, Berry Springs NT 0837, Australia +61 8 8988 6310 Website 11am – 5:30pm Darwin Campervan Hire
inversepenny (contributor)
These are located South of Darwin. Follow the Stuart Highway for 50kms, then turn right into Cox Peninsula road, the Berry springs are about 10ks along here. Located on the Berry Creek, there are three small pools and a small waterfall.
A low weir keeps the pools full, ONLY SWIM ON THE TOPSIDE OF THE WEIR, AS CROCODILES ARE BELOW THE WEIR.
This is another shady oasis, lovely springs, fish in the water, a nice cool spot on a hot day.
There is a Kiosk here which is open from April – November from 11 – 5.30 daily.
---
elwyabsent (contributor)
Less then an hour from Darwin, Berry Springs is one of those places few tourists often discover yet all the locals know of it. I very pretty place, good for a bbq, swim or just a stroll in the grassed areas Berry Springs is somewhere to relax and let the topend afternoon drift by. Toilets, bbq, 3 swimming holes, shop open sometimes and historical displays about the area and Berry Springs role in World War 2.
---
bizarrebay (contributor)
This place is wonderful
The VT meet I went to had a lunch and VERY VERY relaxed afternoon here.
People were here BBQing and playing cricket, league, rugby (and hybrids)
The swimming holes are magic and so warm, the one with a waterfall is like a spa pool. All three are connected by streams.
During WWII, Berry Springs was part of a Rest and Recreation Camp set up by the armed forces for the 100 000 personnel based in the area. A number of huts and a weir were built at Berry Springs during this time. You can still see their remains around the main pool. Berry Springs continues to be popular with locals and tourists as a place for rest and recreation.
---
marskelomo (contributor)
Berry Springs Nature Park is a wonderful park where you can enjoy some family time, a picnic or BBQ as well as a refreshing swim.
The park is located close to Darwin and is very popular at weekends.
The park has picnic tables with lots of shady picnic areas. There are a number of shady pools along Berry Creek (some of which have steps allowing easy access) to enjoy a cooling swim although pools may be temporarily closed in the wet season (October to April) when conditions are considered unsafe. There is also a walking track through two of the Top End's Natural wildlife habitats.
A kiosk is situated within the park and is open during popular visiting times, generally from late morning to mid afternoon.
The Visitor Centre is open from 08:00 to 16:30 and houses displays which show the animals that can be seen within the Park and in the creek.
PARK OPENING HOURS :
08:00 to 18:30 daily
---
farleysknight (contributor)
Berry Springs Nature Park is a short drive from Darwin (~60km). There is cool, clear water which is safe to swim in (check local signs for current condition).
Recommend combining with a visit to the Territory Wildlife Park to make a day trip. There is a Bird of Prey demonstration at the Wildlife Park at 10am and 3pm. We went and watched the 10am show and then got a pass out and went swimming at Berry Springs and then returned to the Widlife Park for lunch and the 3pm show.
---
eithafroghurt (contributor)
Any person who visits Darwin must see Berry Springs in the Litchfield National Park (the little sister of Kakadu) The beautiful warm inviting water of Berry Springs is nice and close to Darwin proper and is safe for swimming. If you go reasonably early in the morning (before 10am) you will get in before the crowds.
Offers Wood Barbecues (and supplies the wood as well) and plenty of shade!
---
Latest Images of Berry Springs Nature Park, Darwin