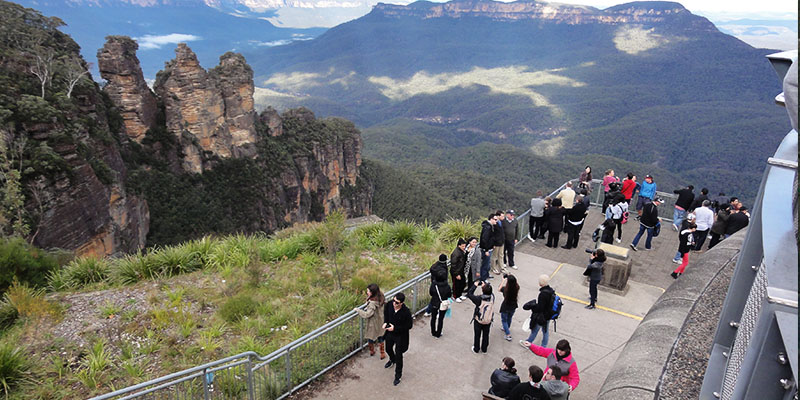 Blue Mountains, New South Wales, Australia  Sydney Campervan Hire
Leocoledale (contributor)
One of the highlight of our Blue Mountain tour was the opportunity to see kangaroos in their natural habitat and not in a zoo.
Our guide told us to be very quiet and walk slowly and you will be able to get close to the kangaroos, but be careful as they can kick you quite hard.
Well, doing my best Elmer Fudd impression (ssh you must be vewy vewy quiet!) I got within touching distance of the kangaroos. They were such wonders to behold! Again like seeing monuments or places on TV or in books that you have seen so many times before, it is awe inspiring to see these places and creatures for real.
---
upperchap (contributor)
We really wanted to see the Blue Mountains which, are not really mountains but foothills at approximately 2,228 meteres (which is 7310 in feet).
I had wanted to go with another travel company that offered the Jenolan caves and the Blue Mountains but our hosts at the B&B; strongly recommended Oz Trails. When I compared the two tours it was clear that the best bargin for the money was Oz Trails. The provided morning tea and lunch which was included in our fare, the other tour company did not.
Jeff was our tour guide and despite him being Scottish, he was certainly knowledgeable about Sydney and the Blue Mountains. He told a funny story about a man he had on a tour who told him "I went to Scotland and had an Australian tour guide and I come to Australia and now have a Scottish tour guide!"
Give this company a looksee next time you are planning a trip to Sydney and are in need of a good day tour, then I highly recommend
---
Jediecotone (contributor)
I would highly recommend you to visit Blue Mountains on your own. That's really no need to join a tour.
Go to Central Railway to take the train to Katoomba or Leura Station. It's a very enjoyable 2 hr train ride, with scenery of outsskirts sydney.
Visit the sydney train website for information on the time schedules and prices, i think i paid about $11 AUD per way from Central Railway to Katoomba.
I took the 9.02am train and arrived at Katoomba 2 hours later. You can hop on the trolley buses directly at Katoomba train station and visit the places of interest at your own pace.
---
Chewylactose (contributor)
Although the Blue Mountains really can not be done properly in one-day, if you are headed to Sydney, you are really missing out if you do not see them! Located about an hour and a half outside of Sydney to the West, Blue Mountains National Park is a great adventure looking into the Australian countryside. Wentworth Falls is a great spot to hike and see the picturesque waterfall, Katoomba is the home to the Three Sisters and Scenic World, and then there is always the element of shopping in the little town streets throughout the journey. If you are on limited time, I would definitely recommend spending a little of it out here!
---
samosagangs (contributor)
This day was probably the highlight of my trip to Sydney. For $68 OzTrails took me to the Blue Mountains. The day started well with great friendly drivers, who obviously have a good knowledge of their subject as well as a good sense of humour. Steve, who was our guide for the day took us to Olympic Park for a drive-by tour of the former 2002 Sydney Olympics Venue, before we stopped for morning tea along the banks of the Penrith River. Next we travelled onto Wentworth Falls. After a short bushwalk, we returned to the bus to head to Scenic World. This additional part of the trip was optional ($25 and well worth it by the way) – and consisted of three modes of transport giving you three different views of the Blue Mountains. For lunch we went to Leura where we were given just over an hour to select a venue of our choice for lunch and browse the shops as we saw fit. Back in the bus we went to Flat Rock for an unfenced view of the Blue Mountains which was awesome. Next was a stop at a National Park campground, where we got to see some kangaroos, galahs and rosellas. Lastly, we boarded a boat for a river cruise back to the city, where you could stop at either Darling Harbour or Circular Quay and which was fabulous because it was a much better way to end the day instead of waiting around in the bus for everyone to be dropped back to their individual hotels.
This trip was fantastic and I would thoroughly recommend it to anyone.
---
Pugsleyuser (contributor)
We made our way to the Three Sisters by going to the town of Katoomba in the Blue Mountains. We bought tickets for the Scenic Railway, the world's steepest railway (it was either $7AU or $17AU—I forgot—but I'm more inclined to say $7). The ride is a vertical drop, but not rollercoaster drop. It's a nice leisurely speed, but exciting nonetheless cuz you do end up almost standing at some point, it's so steep. I assumed the railway only goes in one direction which is down, but a VT member pointed out she's taken it up before. We took either the Scenic Skyway or Sceniscender (I forget which one was out of commission at the time) back up to the gift shop area.
The Three Sisters are three vertical rock formations that stand side by side. Three beautiful sisters were turned into stone by a witchdoctor to protect them from danger. At that time, some warriors (they were brothers too) from a rival tribe wanted to marry the Sisters but inter-tribal marriage was a big no no. War broke out when the brothers decided to kidnap them anyway. The witchdoctor died before restoring them to human form.
---
Genomesecure (contributor)
Possibly the most visited site in the Blue Mountains! The view is just spectacular on a good sunny day! Come and see how blue are the Blue Mountains! (The bluish mist is caused by fine mists of eucalytus oil floating in the air which distort sunlight into a bluish hue)
Extracted from website below:
THE LEGEND OF THE THREE SISTERS
The Aboriginal dream-time legend has it that three sisters, 'Meehni', 'Wimlah' and Gunnedoo' lived in the Jamison Valley as members of the Katoomba tribe.
These beautiful young ladies had fallen in love with three brothers from the Nepean tribe, yet tribal law forbade them to marry.
The brothers were not happy to accept this law and so decided to use force to capture the three sisters causing a major tribal battle.
As the lives of the three sisters were seriously in danger, a witchdoctor from the Katoomba tribe took it upon himself to turn the three sisters into stone to protect them from any harm. While he had intended to reverse the spell when the battle was over, the witchdoctor himself was killed. As only he could reverse the spell to return the ladies to their former beauty, the sisters remain in their magnificent rock formation as a reminder of this battle for generations to come.
---
Latest Images of Blue Mountains, Sydney