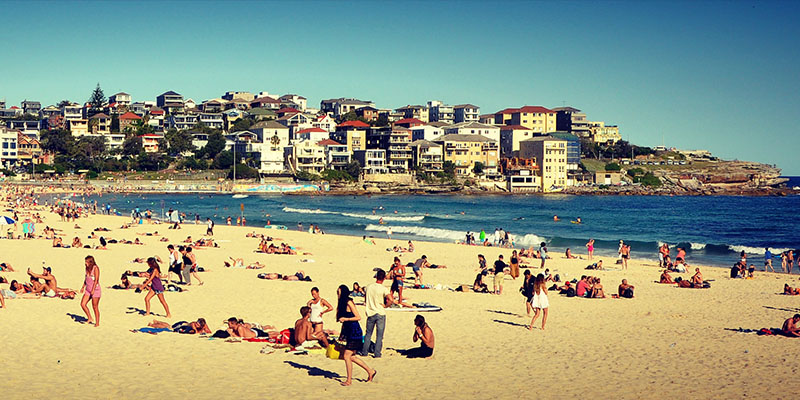 Bondi Beach, NSW 2026, Australia Sydney Campervan Hire
abbeywail (contributor)
Sydney has many beaches and most people would agree that Bondi, which is undoubtedly one of the world's great beaches, is probably her best. Bondi is where ocean and land seem to collide, the Pacific arrives in great foaming swells, and all people are equal, as democratic as sand. Bondi is also the closest ocean beach to the city center, has consistently good (though crowded) waves, and is great for a rough 'n' tumble swim. Other, less well known and usually less crowded beaches are, however. just a brief hike over the heads. These include Coogee, Bronte, and Cronulla. Sydney's Northern Beaches also make for a deliciously sandy day trip. Extending north from Manly, where I stayed on my first visit, they form a continuous stretch of laid back 'burbs, craggy headlands, and over twenty beaches, finishing at Palm Beach.
---
Marziceland (contributor)
Bondi Beach is one of Sydney's most famous beaches. It is located in the Eastern Suburbs south of Sydney. The beach is wide and long and at times can be dangerous and subjected to rips. Please swim between the flags if you are deciding to have the day at the beach.
There are plenty of cafes, restaurants and hotels in Bondi Beach.
Buses run to the beach at 10 minute intervals from Bondi Junction. Services are limited after 7:30 pm Buses run every 15 minutes until midnight. On Friday and Saturday nights buses run every half hour all through the night.
The railway station at Bondi Junction is 2 kms from the beach. The train service runs every 10 minutes on weekdays, and every 15 minutes at weekends. All buses from the beach to the city go via the railway station at Bondi Junction.
Buses and trains can be caught from Circular Quay, Town Hall and St James Station.
---
rabailuck (contributor)
Bondi Beach is probably the most famous beach in Sydney. This long beach streches about 3 km and you can enjoy the big waves of the ocean. There are trendy cafes and restaurants close to the beach. The lifeguards are always around just to make sure everybody is safe. If you are not a good swimmer, it is better to stay with the crowd while you enter the ocean. Due to big waves, you can be dragged into the bottom. Bondi Beach is a good spot for spending a lazy day, but you can also try the coastal walk from Bondi Beach to Coogee offering fantastic sea view.
---
baloocassie (contributor)
Liz is a big beach girl and wanted to see Bondi. We hopped on a bus and went to Bondi Beach. The bus ride was easy and quick. We started our day lounging on the beach. The sand is super fine and soft. It was a bit windy in the morning but that didn't hamper the visit. Liz took a dip in the Pacific as I lounged on the beach. It was great to sit and watch the waves crash, the surfers and the people strolling by. The weather was beautiful and we had a fabulous day.
While there on this first visit we had the experience to watch several Japanese businessmen in full suits walking the beach with their pant legs rolled up. Liz didn't seem to notice them as much as she was enjoying the surf, but the whole scene to me was quite entertaining.
On our second visit the beach was much more crowded as it was fully summer. We took the bus here from Bondi Junction train station for our walk down the shore to Coogee.
---
Jedcook (contributor)
hi everyone.
i stayed in sydney for a month it was the best time .my daughter was out their for a year we travelled while i was their first thing was bondi beach it was amazing the people are so freindly lots of little bars and cafes.
next we travelled to the gold coast paridise island lots of backpackers their we stayed in little b&b; with breakfast £5 a night it was ok stayed for 4 nights then on to airlie beach stayed their 4 nights it is so cheap to get b&b; their we went to whitsunday islands to hamilton island and south moll island these places i will never forget .also we stayed in cains that was a fun place stayed in lovely little backpackers place lots of cheap bars and cafes and to finish swam in the barrier reef i reccommened oz to anyone go you will have a ball i did
---
cashsandy (contributor)
How can one visit Sydney in summer without a visit to this beautiful sandy beach? In addition to the many fine restaurants, a walk on the golden sand or a dip in the turquoise water is an experience. Bondi Beach is only 8 km away from the city centre, just catch the bus numbers 333, 380 or 389 from Circular Quay.
---
crackersmath (contributor)
Our Australian friends told us about this coastal walk. We started at Bondi. Hubbie had a quick swim, but I did not like the size of those waves. Then we walked along the coastal path to Bronte Beach. A bit calmer. We both had a swim. Then through a clifftop cemetery to Coogee Beach where we saw a shrine saying apparitions of the Virgin Mary had appeared there. The scenery on this walk is lovely.
---
Latest Images of Bondi Beach, Sydney