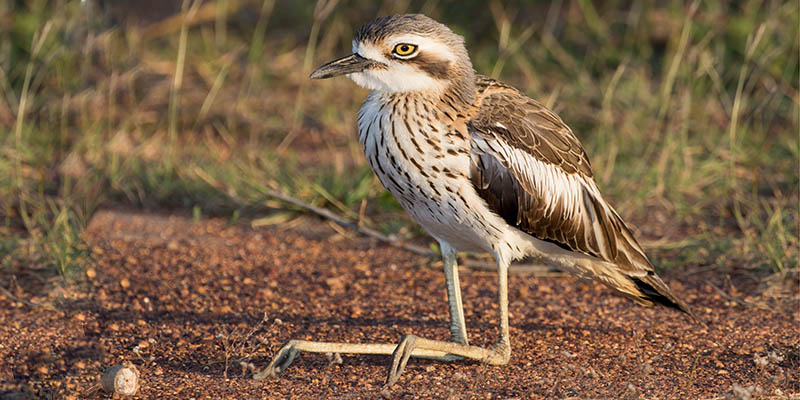 Carnley Ave, Kotara NSW 2289, Australia +61 2 4904 3344 Website 7am – 7pm Newcastle Campervan Hire
linkageionic (contributor)
Some Facts on the Bush Stone Curlew.
Also called the bush thick knee or Willaroo.
Scientific name is Burhinus grallarius.
The bird is now one of Australia's Endangered Birds.
Its height is around 60cm. Bigger than a lapwing, smaller than an ibis.
It makes a distinctive wailing "weer-lo" call, mainly at night.
It eats large insects, spiders, snails, small reptiles, small mammals, frogs, small fruits and seeds by poking around amongst the leaf litter and under logs.
Generally reluctant to fly and spends most of its time on the ground.
Lives up to 30 years and generally remains in the same territory with its mate.
A breeding pair of birds will spend most of their time within a territory of about 25ha.
Lay two eggs at a time, in a simple scrape in the ground.
Chicks often killed by foxes, dogs and cats.
When birds aren't breeding they will forage over a larger area of several hundred hectares.
Lives in lowland, grassy woodland areas and riparian forests with few or no shrubs.
These days they are mostly found on private land and, in particular, Magnetic Island off Townsville where they have another, not-quite-so-scientific name. Due to their unique call they are labelled the rape bird. I'll leave the rest to your imagination, then again, perhaps that's not a good turn of phrase!
There is another fact – you can see them up close and personal at Blackbutt. Thus it was when I took Sarah, a fellow VT-er from Canada, I was surprised as I had never seen one before. Both of us were having a wonderful time, Sarah seeing birds she never knew existed and me seeing feathered creatures I had only heard about. Then again, that's what you should expect at Blackbutt.
---
Latest Images of Bush Stone-Curlew, Newcastle