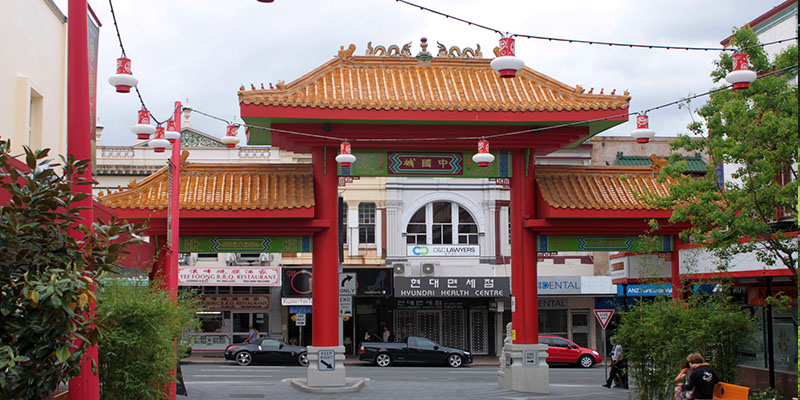 33 Duncan St, Fortitude Valley QLD 4006, Australia +61 7 3006 6251 (Fax) Website 12am – 11:59pm Brisbane Campervan Hire
pasteverde (contributor)
Brisbane's Chinatown is located in the Fortitude Valley area of the city, about 1km north east of the CBD and city centre.
In truth, Brisbane's Chinatown consists mainly of one street, Duncan Street, and is tiny compared to some of the sprawling Chinatown's I have visited in cities such as Sydney, Toronto and Singapore.
Large ornate Chinese gates and stone lions guard the entrances at each end of Duncan Street, and there are a handful of pagodas and small water features along the street.
Duncan Street is dominated by Asian restaurants (not just Chinese, but also Vietnamese, Thai, Singaporean etc), but there are also Chinese grocery stores, herbalists and accupuncturists.
There is a large Chinese Cyber City complex (containing an Internet cafe, pool tables and a restaurant), which seemed to attract a largely Chinese/Asian clientele and acted as a focal point for the local community to meet.
As with any Chinatown, the main appeal to me is the wonderful food. Brisbane's Chinatown is no exception in this respect. There are plenty of restaurants in which to enjoy good value Chinese fare and many restaurants offer special value lunchtime menus.
As well as Duncan Street, there are a few other Asian restaurants on parallel Brunswick Street and nearby Wickham Street.
Don't expect to see rickshaws here, and there aren't many red lanterns either, but be sure to visit and try the good quality food!
---
TheIzzy (contributor)
Both tourist sights are side-by-side so it really make sense for me to kill 2 birds with 1 stone.
I must confess…I was totally underwhelmed. Maybe it's because I visited both places during mid-morning Saturday but I can swear, away from Brunswick Street, the place was as quiet as a tombstone.
Brunswick Street Market wasn't as perky or mildly interesting as the Lonely Planet made out to be…either that or there is another Brunswick Street Market elsewhere in the 4th dimension.
The Market occupies Brunswick Street, but of course, which is not opened to traffic. Lining the streets are some shopping arcades and restaurants/eateries. On the weekends, stalls sprung up like mushrooms along the street selling knickknacks…of which plenty I personally think, unfortunately had as much appeal as a soiled toothbrush. I actually walked through the street twice (which really don't take more than 10 minutes 1 way) just to make sure I hadn't missed anything. Nope. Check. Nope. Check. Nope.
Then there is Chinatown…which always doesn't hold much of an appeal for me….who goes travelling to seek back exactly the things one left behind? The usual galaxy of Chinese restaurants and stores selling splashes and gashes of red all spilled into pagodas, masks and medicine. I did however, had a lovely shrimp dumpling noodle lunch at one of the Hong Kong-style eateries which was teeming with business.
To get to this spot, take the train and get off at Brunswick Street Station. Both locations are a mere 5 minutes walk away.
---
naughtyrusty (contributor)
This is a very popular place for so many people to visit – Saturday morning markets, which start as the clubbers drag themselves home – and both weekend days, you will see plenty of people sitting around the many al fresco restaurants, enjoying a leisurely breakfast, brunch, lunch or whatever! The meeting place for so many different types of people.
Brisbane's China Town area is not large, but there are two mall areas, and plenty of restaurants and Asian shops to make this a great weekend outing place.
Some caution is required in the evenings, due to the presence of crime in this area. The ugly part of the area's diversity.
---
fruiteclipse (contributor)
Brisbane's Chinatown Mall was established in 1987 in Duncan St, Fortitude Valley, an area where Asian traders had long been based. The Mall was refurbished in 1996, with rotunda's, pagoda's and lions in the style of the Tang Dynasty. A water garden was also added, with the fountain and pond symbolising good fortune. Chinatown is the hub of Asian trade in Brisbane, with a variety of supermarkets, restaurants, trinket and clothing shops, Chinese medicine specialists and markets on the weekends. During Chinese New Year, the area comes alive with celebrations and performances. If you're after a Chinese, Vietnamese, Thai or Korean meal, Chinatown and the surrounding area has a myriad of delicious choices.
Some people might recognise Chinatown from some scenes in Jackie Chan's movie First Strike.
Parallel to the Chinatown Mall is the Brunswick St Mall, which has markets on Saturday's and a variety of pubs and restaurants worth looking at. A short drive away is New Farm Park, which is great for a barbecue or to kick a footy around. There is also a nice river walk and an expensive cafe.
---
dykeabsolute (contributor)
0830 – After dropping Millie off at a Dance Workshop, Simon and Toby accompanied us on another visit to 'South Bank' – one of the riverside areas of Brisbane. We looked at all the stalls on there street market and drank Chocolate
Milkshake at the most amazing chocolate shop/
and cafe called 'Max Brenner's'.
1300 – 'Yum Cha' is the name for the type of meal we had in Chinatown, Brisbane. Cassie, Matt, Jackson and Lincoln met up with us, as did Diccon and Jess, so a table for 13 was required!
Trolleys are brought round with every imaginable Chinese delicacy in bamboo containers, and if you would like a particular dish on offer then they just add it to the ever increasing number of foods on your lazy Susan! Prawns, squid, mussels, chicken, pork, duck and a few token gesture vegetables – it was all there in many different guises. The desserts were interesting; tri-colour jelly, mango cream slice and custard tart to name but a few.
1400 – Guy has gone for a much-needed nap, and I am writing postcards. Sadly, our next job will be starting to pack our cases for the next leg of our adventure! Manda has promised to cook us Kangaroo sausages this evening, and pies shaped like Australia!
---
Latest Images of Chinatown, Brisbane