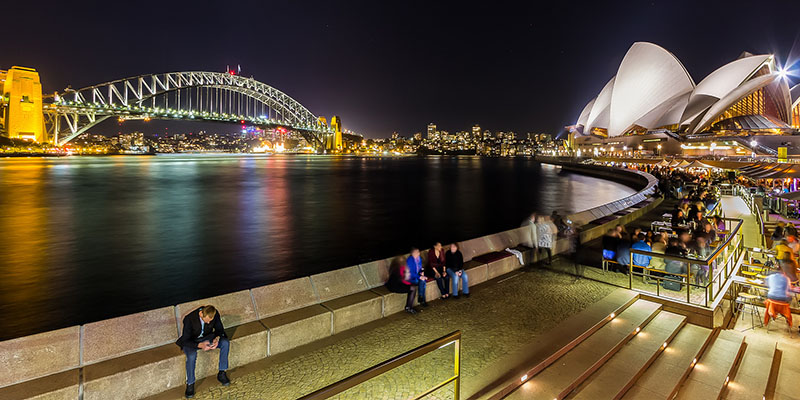 Circular Quay, Sydney NSW 2000, Australia +61 2 9387 6644 Website Sydney Campervan Hire
Browniesbeaver (contributor)
There are few more historic places in Australia. This is where the First Fleet landed in 1788 to forge Australia's first settlement on Sydney Cove. This is where Australia's first warriors set sail for the shores of Gallipoli. It was this harbour that received those that survived Australia's most famous battle. As remembered in the famous song, "And the Band Played Waltzing Matilda":
"And as our ship pulled into Circular Quay, I looked at the place where me legs used to be.
And thanked Christ there was nobody waiting for me, to grieve, to mourn, and to pity."
Today it is more famous for culture and celebrations. It hosts the Sydney Opera House and offers great views across the harbour to Sydney Harbour Bridge. You can't get a better spot to watch the famous New Year's Eve fireworks display than here.
---
Rogermeh (contributor)
One of the bestknown buildings of Circular Quai is the Customs House, a historic Sydney landmark built initially in 1844-1845, the building was used as the headquarters of the Customs Service until 1990. Then it was sold to the City of Sydney Council in 1994 in order to be used for exhibitions and private festivities and since 2003, it has also become the new home of a Library.
On top of the facade you will find the Coat of arms of the United Kingdom. The coat features the motto of English monarchs, Dieu et mon droit (God and my right), and the motto of the Order of the Garter, Honi soit qui mal y pense (Shamed be he who thinks ill of it) on a representation of the Garter behind the shield.
I also had a short look inside, BUT it was locked already and I had just a glance through a window: So in my last picture you can see a bit of the great glassfloor with a small-scale model of Sydney underneath !
…and there is a great staircase in the library.
---
Carlosregular (contributor)
Bennelong Point is the tip of the peninsula, where you will find the Sydney Opera House. Bennelong Point is a great place to relax and enjoy the view of the Opera House in a completely new angle, there are cafes and restaurants, souvenirshops and lots of benches.
When the first fleet of settlers had arrived in Sydney in 1788 right there in the bay next to Bennelong Point they first arrested Arabanoo, a young Aborigine, who was able to speak and understand english quite well within a short time, but he died already in 1789 and they had to search for somebody else.
The idea behind the arrest was mainly to learn from them how to adapt to the new Continent. After the death of Arabanoo they arrested Bennelong. He soon became an agent between both cultures and he also is considdered having been the creator of the australian Aboriginal-Englisch.
---
Barriecasper (contributor)
Circular Quay is at the northern end of the city-centre and consists of the streets and buildings around Sydney Cove.The eastern end of Circular Quay is Bennelong Point with the famous Opera House and the western end is Campbells Cove, next to the Harbour Bridge.
The first fleet of settlers had arrived in Sydney in 1788 at this very bay, that was a great natural port and they started to build their first settlement with the name Sydney there. The bay looks like a Semi-Circle and this is why they called it first Semi-Circular Quay and later just Circular Quay.
Nowadays it is a great boulevard with lots of cafes, restaurants and shops and it is also an important hub for Trains, ferries, cruises or fishing-trips with small ships to the islands around Sydney and last but not least there is also a large pier for a giant cruiseship, like you can see in the last 2 photos of my extra pictures.
---
Saturntips (contributor)
Another thing to do at CUSTOMS HOUSE is.. when you walk into the foyer there is a glass floor and underneath it is a fantastic model of the Sydney CBD..(Commercial Business District) .This is extremely well done and is excellent for a visitor to see where one is and the way to get to another city destination..also it gives one an idea of the distance if you are walking…as I do…Most Sydneysiders don't even know of this place..Here also you can get a coffee and sit and read the daily paper from your city in a quiet surrounding…just great place to sit and relax after maybe long walks in the area… NB:try and take photos without flash to avoid reflections off the glass floor..(if possible use a polarising filter to stop reflection)…There is also a library here upstairs that quite often has photo exhibitions etc..being a libary there are computers to use if needed..and in this lovely old building is the interesting history of the Australian Customs and Immigration Department..
---
siltpin (contributor)
We came down here on the first day to get a ferry to Manly, and when we got off the ferry we saw all kinds of things were happening down here. There was a unicyclist who was getting ready to juggle fire brands.
I even took a photo of one of the plaques on the Writer's Walk – it was the one for Barry Humphries and it said
"I think that I could never spy
A poem lovely as a pie
A banquet in a single course
Blushing with rich tomato Sauce"
I had also heard that this would be a good place to eat. Unfortunately, we were just too tired and went back to the hotel and took a nap. And I never got back here to see all the action.
---
Latest Images of Circular Quay, Sydney