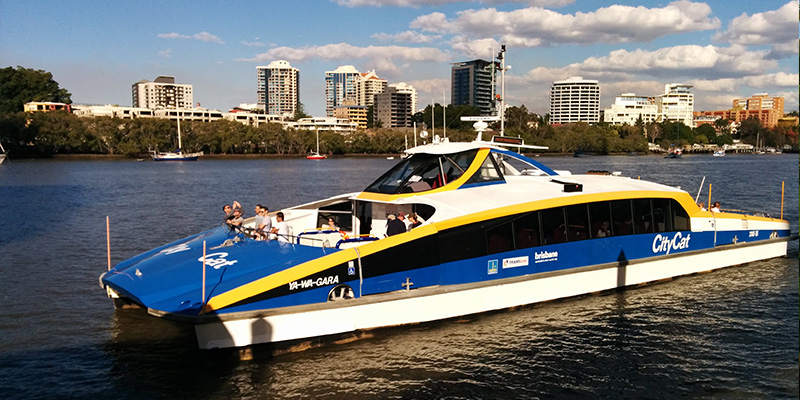 100A Edmondstone St, South Brisbane QLD 4101, Australia +61 7 3403 8888 Website Brisbane Campervan Hire
macekinglass (contributor)
I'll assume that, as a tourist, you rank seeing Brisbane at its best as importantly as "just getting there". For reaching many of the interesting sights, it's hard to beat the "Citycat" service. The "Citycat" service runs upstream from the city as far as the University of Queensland and downstream as far as the Hamilton Reach, where cruise liners berth. Between those points, many stops have parks or other features of interest, most notably the Southbank and the old Botanic Gardens.
My key point is that between the stops, it is pleasant to look at the changing city skyline, the river and its other users such as moored cruising yachts. I highly recommend just hopping on and doing the full trip up and down the river. The Citycat service runs from 0530 to 2230 daily.
Main photo: Citycat seen from Southbank
Second photo: Brisbane city skyline and paddle steamer
Third photo: Brisbane and its river.
---
nigglemodern (contributor)
An inexpensive day out in Brisbane, jump in and out on the CityCat ferry for a cruise up and down the river. The CityCat is a high-speed catamaran that travels the length of the Brisbane River, gliding the 19th of river, from Hamilton to St. Lucia stopping regularly to pick up and set down passengers over 14 stops. Travel all day with unlimited stops. Picnic facilities, historic sites, shopping and restaurants can be found at various stops or, if preferred, passengers can simply enjoy the round trip cruise that takes approximately two hours. Call for timetable and route information.
No need for more expensive cruises unless you really want to spend the money.
CityCats are the best way to explore the Brisbane River and riverside suburbs.
---
Radianby (contributor)
It isn't really expensive, especially if you have purchased a Daily Card (land and water transport modes included)…so why not hop on a CityCat ferry while you are at it, max out your card, and easily fish out the best way to navigate the river. Claim that you had floated on Brisbane's source of life while grabbing some quick impressions of the city along the way.
There are several piers along the river where you can hop on and off, with or against flow of the river.
I hopped on at Riverside Centre (where there is a Sunday Market apparently) and literally, went round a bend, gazing as the City Botanical Garden fell behind me. Raised my head as darkness fell, fleetingly as I found myself under Captain Cook Bridge, and before I even could pinpoint myself on the map, the ferry hit the Southbank, where there were a couple more of stops before finally hopping out at North Quay, just before Victoria Bridge. The entire journey was just a mere 15-20 minutes, but if the weather is good and clear, it's a good way to spend 15-20 minutes!
---
funny_usually (contributor)
This is a fun thing to do in Brisbane, not only that, but its relativly cheap, and its public transport.
Hop on to a City Cat at on of the many river stops and do the round trip.
This can be done both day and night (as with the lights at night its kinda spectatucalar, and by day very scenic.
a big PLUS – With the current Brisbane City Link Fare structures, a full day pass will only cost you $5.20 for the day, even cheaper if you use off peak times. Not only that but it can be used on all public transport, (City Cat, Ferry, Train, Bus,) as long as it is within zones 1 & 2 till midnight. There are some time restrictions with an off peak ticket.
---
strakespoonbill (contributor)
The comfortable sleek city cats operate from 5.30am until 10.30pm – and cruise the Brisbane River, from Bretts Wharf at Hamilton to the University of Queensland at St Lucia. There are 14 stops along the way, including New Farm Park, Kangaroo Point, Queensland University of Technology (inner city), Southbank Parklands, West End and Toowong.
These stops all have interest and attraction to tourists, and this is a nice, relaxing way to see the inner parts of this beautiful city.
---
Latest Images of City Cat, Brisbane