Cleland Conservation Park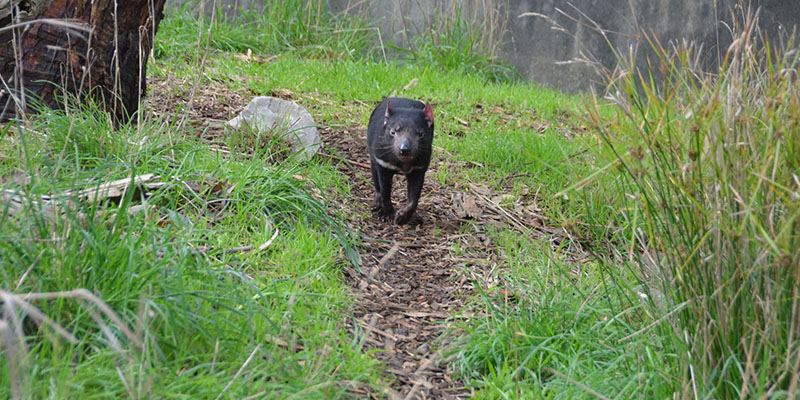 Cleland SA 5152, Australia +61 8 8278 5477 Website 12am – 11:59pm Adelaide Campervan Hire
cutsgom (contributor)
With only a few exceptions, and this is not one, I am personally not a fan for zoos or small wildlife parks. That said visitors to Australia and children in particular will enjoy this park.
An "open zoo" within Cleland Conservation Park and close to the summit of Mount Lofty.
The aim of the park is to let you get up close to native Australia animals. The park has 35 hectares of open bushland habitat where visitors can interact with Australian wildlife. Having entered the park and armed yourself with a bag of animal feed (fee in addition to the park entrance fee) you are pretty much free to wander around at will among the safer of the animals – kangaroos, lorikeets, emus, wallabies etc. Less safe ones (and the more reserved) are available for inspection in their enclosures – including nocturnal animals such as bilbies and bats, as well as venomous snakes and native lizards.
Onsite facilities include a café, gift shop and free bbq's. Picnics are permitted.
Koalas – the parks additional money spinner
Photo holding Koala – A$30 (in addition to entrance fee). Daily "holding" sessions including professional photo run between 2pm – 3.15pm. An additional session is available on Sundays and public holidays between 11am – 11.45pm.
General Koala "close-up" sessions are included as part of the entry fee and occur twice daily between 11am – 12pm and 2pm – 4pm – take your own photos.
If temperatures rise to 32 degrees C – koalas are not on show.
Opening times
Open daily (except Christmas Day) from 9:30am – 5pm.
Admission fee
Adults: A$20
Concessions: A$16
Children: A$10
Family: A$50
Discounted admission fee – Cleland has a voucher in the Adelaide version of the Entertainment Book for 25% off entry prices and RAA members receive a 10% discount.
Access – via car or bus
By Car – from the city (20-30mins) take Glen Osmond Road to the South Eastern Freeway, take the Crafers turn off and head up Mount Lofty Summit Road, travelling past the Mount Lofty Botanic Gardens and then turn left and continuing until park is reached.
By Bus – Adelaide bus(route number 823 from Crafters Ramp (stop 24/24A) noting very limited service for this bus). A number of buses from city stop at Crafters ramp eg 840, 860, 863 and 864. Refer http://www.adelaidemetro.com.au/ for route details.Allow an hour with a carefully timed connection – best connections with 864/864F for which, I understand, it waits. If necessary.
---
chloevomit (contributor)
When in Adelaide the majority of visitors want to get up close to Australias local wild life..well here at the CLELAND WILDLIFE SANCTUARY this is a place where you can pat a Kangaroo or a koala..great photo opportunities to be photographed up close with all animals..There are daily keeper talks on various wildlife..There are Koala closeups and hands on..11.00 AM to 12 noon daily also at 2 00 PM till 4.00 PM daily..walk amongst many different kangaroo and wallaby species even rare rock wallabies..walk in bird aviaries..just walk slowly and quietly for best photo results..
open daily from 9.30AM till 5.00 PM except Xmas day..
---
treedango (contributor)
I visited Cleland Wildlife Park a few days into my visit to Australia in April 2006. I was taken there by a couple of locals after telling them that I had never seen a kangaroo!
This wildlife park is located near Mount Lofty Summit, about a 20 minute drive from Adelaide, and is a great place to get up close to the native animals.
Upon entering the park, you can purchase bags of animal feed with which to feed the various animals in the park. You are free to wander around at your leisure and to get right up close to the animals. Having kangaroos, wallabies and emus eating from my hand is an experience that will live with me forever.
The animals that you can see at the park include:
Western Grey Kangaroos;
Yellow-footed Rock Wallabies;
Red Kangaroos;
Tasmanian Devils;
Dingoes;
Koalas;
Emus;
Potoroos;
Bandicoots;
Bettongs;
Cape Barren Geese;
Dama Wallabies;
Kangaroo Island Kangaroos;
Swamp Wallabies;
Wombats.
There is also an "Ocean to Outback" house which houses a selection of snakes, lizards, small mammals and insects.
At certain times of day you can watch the animals being fed (that is, those animals that you can't feed yourself). Feeding times are as follows:
Lorikeets: 12:30pm
Tasmanian Devils: 2:00pm
Dingoes: 2:30pm
Swamp aviary birds: 2:45pm
Pelicans/waterbirds: 3:00pm
Bush birds: 3:15pm
Snakes/reptiles: 1:30pm (Sundays only)
You can have your photograph taken while holding a koala for a cost of 12 AUD.
Opening times
Open daily (except Christmas Day) from 9:30am – 5pm. No entry after 4:30pm.
Entrance fees
Adults: 13.50 AUD
Concessions: 11 AUD
Children: 8 AUD
Family: 36.50 AUD
---
rocky08 (contributor)
The views from up at the lookout are wonderful. Seriously wonderful. There are suit with all age, you can take you family to acknowledge how beautiful the natural are!
There is a restaurant and souvenir shop. You can feed and close with lovely animal, and also you can hold koala for once in your life before you go back to your country…
---
jirryclark (contributor)
These beautiful parkland's are situated just 12km from the city center and offer magnificent views of Mt Lofty and the scenic Waterfall Gully. Highlights are the new Ocean to Outback Interpretive Center which is an interactive journey through South Australia's diverse landscapes. There are daily animal feeding presentations, koala close up and handling sessions and 90 minute guided nocturnal wildlife tours.
---
Latest Images of Cleland Conservation Park, Adelaide