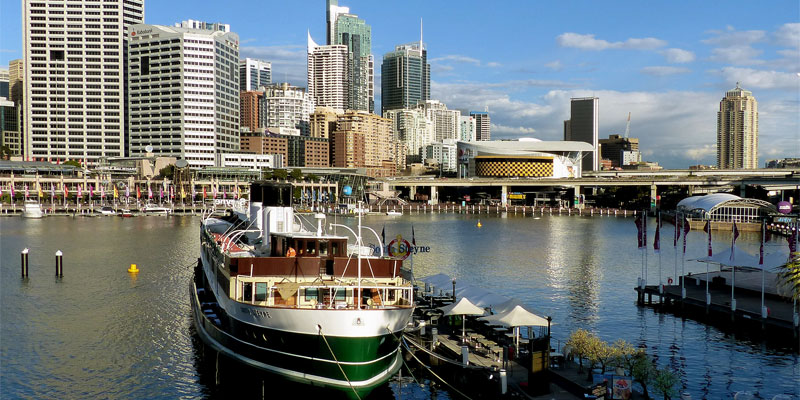 Sydney, New South Wales 2000, Australia +61 2 9240 8500 Website 8am – Late Sydney Campervan Hire
Wellobalm (contributor)
Darling Harbour is a great recreation-area with various museums, an IMAX-cinema, cafes, restaurants , the aquarium, the Nautical Museum that includes various large ships and even a submarine on display in front of the museum, in the waters of Darling Harbour.It will need at least a whole day in order to enjoy and explore all of the various sights of Darling Harbour.
These are some of the most important sights of Darling Harbour:
The National Maritime Museum
The Chinese Friendship Gardens
The Powerhouse Museum
The Star City Casino
The IMAX Theatre
The Sydney Aquarium & Wildlife World
The Entertainment centre
The Exhibition and Convention Centre
lots of shops, bars, restaurants, playgrounds
a Chou Chou Train
---
Onyxcube (contributor)
We had just finished exploring China Town and decided to walk with no agenda since we enjoy doing in many cities we visit.
Located in Darling Harbour was the Outback Center promoting Outback Australia and Aboriginal Culture. The center has a wide range of outback and aborigal art for sale. The part I enjoyed most was their "Sounds of the Outback".
The story takes place in the outback and is told by a young man and his son who perform the various stories with a wide range of " didjeridoos". The performance is breathtaking with a projector on the background projecting all the beautiful views of the outback.
I can not recall the young man's name, but his story was quite compelling. Living in Sydney alone with his mother, after his father abandoned them, he got into a lot of trouble and his mother shipped him to his grandparent's home who lived in the outback. He learned about his culture and how to tell stories with his didjeridoo. After many years of studying the didjeridoo and how to tell these stories, he realized how important his culture and heritage were for him and how he wanted to conserve it for his children. As part of his conservation, he is now part of the "Sounds of the Outback". His performances are free and he doesn't recieve any payment from the Outback Center, so he does ask for a small donation to support himself and his family.
If you find yourself in Darling Harbour, make it a point to come by and see this fantastic performance.
---
Koolkat65 (contributor)
Darling Harbour has a lot more to offer than just a Harbour and restaurants, but it got parks, art and cultures, a beautiful bay with city skyline, and even a Wildlife world and an Aquarium.
After visiting Paddy's Market, I walked to Chinese Garden, and took some pictures with Skyview Observation Wheel. I continued walking along Urban Stream, and stopped at Sydney Visitor Centre. The first time I saw the Cockle Bay, I thought it had stunning views of the bay with Pymont Bridge and the City skyline. I walked along the bay, and passed by restaurants, cubs, and shops at Harbourside Shopping Mall. Before I crossed the Pyrmont Bridge, I saw Australian National Maritime Museum and outdoor display of submarine. When I crossed the bridge, I saw Sydney Wildlife World and Sydney Aquarium, but I did not visit them. I exprienced the Pyrmont Bridge swung to another end to let a ferry went into Cockle Bay. After I crossed the bridge, I saw this beautiful asian restaurant named "Chinta Ria" meaning " "Temple of Love" in English. I belived this restaurant is opened by someone from Southeast Asia as its name is either Malay or Indonesian origin.
Please visit the website to download its map,and discover more place to explore.
---
Jacobn (contributor)
The HMAS Advance is on display at the Maritime Center. This Attack class patrol boat was commissioned in 1968 and decommissioned in 1988. Advance was one of 20 Attack class patrol boats built for the Royal Australian Navy between 1967 and 1969. The Advance helped shadow Russian fishing boats suspected of spying, followed illegal fishing boats, chased smugglers, provided search and rescue, and helped survey the West Coast. The Advance has a steel and the superstructure is aluminum. It is armed for small-scale encounters, with one 40-mm Bofors gun and two 0.5-inch Browning machine guns to fire warning shots across the bow of a suspect vessel.The Advance is still used during Maritime events but not available for public tours.
I have a love of ships and water vessels, probably due to my Naval past so it is always pleasurable to see such vessels up close and personal.
---
boatluvin (contributor)
If a city we visit has a city aquarium then we go. We love them. This is an especially nice one. Right when you go in you get to see the Platypus exhibit so you don't have to go searching for it. They seem to know that the Platypus is what a majority of foreigners want to see so they serve it up straight away. Good idea! With that out of the way you can concentrate on the vast variety of Aquatic Life that Australia and this Aquarium have to offer. They have a Crocodile so if you need to see one of those, they have it! I found most of the native freshwater fish to be pretty dull in color but the came in a vast variety of shapes and sizes. Of special interest are the two large salt water tanks that have plexiglass roofed walkways. One of them houses Dugongs, an aquatic mammal similar to the West Indian Manatee of Florida. Its tail is more streamlined but the face is very familiar. They have a another huge aquarium you can see sharks and sea turtles in and a Reef fish tank that is stocked with very colorful fish. If Aquariums are your thing, don't miss this during your visit.
---
maritimeman (contributor)
When in Darling Harbour..the National Maritime museum is well worth the visit..The museum is free of charge ..There are guided (free) tours inside the Museum and galleries..There is a 210 seat cinema showing short films..so much Australian naval history here also with the stories of the four HMAS SYDNEY'S that have served in the Royal Australian Navy.See Kay Cottees yacht "FIRST LADY" in which she circumnavigated the world..and Ken Warby's world record fastest boat on the water…Outside the museum one can look look over ships at the wharf..ie: Destroyer HMAS VAMPIRE..Submarine HMAS ONSLOW..Tall ship JAMES CRAIG..Replica Captain Cooks ship ENDEAVOUR. part of the Heritage fleet moored here… Visit also the historical section of smaller boats wartime ship "KRAIT" and a immigrant boat that got many Vietnamese refugees to Australia.There is also an 1874 Lighthouse..and the welcome wall which is a tribute to the millions of immigrants that have crossed the oceans to settle here and call Australia home..This is wheelchair friendly..All information at ticket office inside museum entrance..
---
720pzone (contributor)
Primarily designed as a tourist precinct, Darling Harbour is home to many famous attractions for visitors to Sydney. Among nearby items of tourist interest are the Australian Maritime Museum, the IMAX Theater Sydney, the Powerhouse Museum and the world-famous Sydney Aquarium. (remember Finding Nemo?) The Chinese Garden, which is supposedly the largest Chinese-style garden outside China, is only a few blocks south of Cockle Bay and the Harbour's South Promenade.
In addition to these destinations, Darling Harbour has beaucoup smart shops, cafes and nightspots. These establishments are all over an area called the Cockle Bay Wharf. In general, it's quite a place to be in Sydney, pretty much any time of day.
Those of you who know me well know that I am a walker. I walk for exercise and relaxation. I particularly enjoyed the nice footbridge spanning the Darling Harbour. At night, it's an especially scenic part of Sydney. (see next tip)
In addition to being a tourist mecca, Darling Harbour is, ah……..a very picturesque harbour, too. Imagine that. : )
---
Latest Images of Darling Harbour, Sydney