Gear Essentials for Off-Roading in Australia
Planning to go on an off-road Outback adventure in your 4WD camper? It is essential to make sure that you have the right supplies with you. Not only will they make your trip go a lot more smoothly, but they may also be vital to your survival if you do hit a bump in the road (figuratively or literally). Here are 8 crucial supplies to make sure you have with you on your next off-road expedition.
1. A fire extinguisher.
I am going to jump right past talking about proper tires, because I am going to assume you have that squared away, or the company you are hiring your 4WD camper from has taken care of it.
Next on your list should be a fire extinguisher. Rules and regulations in many parts of the world stipulate that this is a must for off-roading, so chances are good your rental company has already provided this as well.
Just make sure you know how to use it and understand what it is for. Obviously it is there partly to help you douse a fire in your vehicle, but it is also provided so that you have a shot at preventing a forest fire.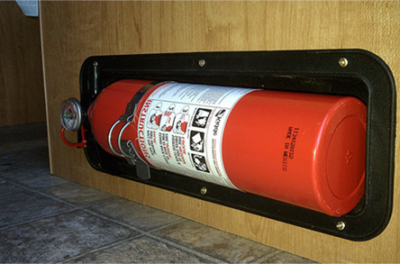 2. A recovery kit.
Another vital item is a recovery kit. This all-in-one kit provides you with the supplies you need to get a stuck vehicle un-stuck. Make sure that you are travelling with a high quality kit with sturdy gear, and that you keep it somewhere accessible. You never know if you will be able to get into the trunk of your vehicle if you do get stuck, so it is wise to keep it near the driver's seat. That way you can be assured of reaching it when you need it.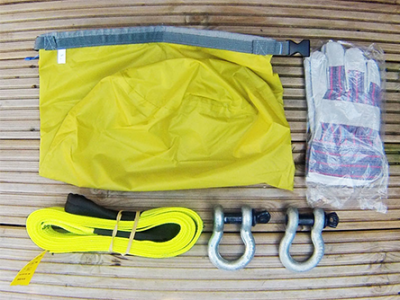 3. A hi-lift jack.
This incredibly useful tool can be a lifesaver when you are off-roading. It can help get your vehicle un-stuck, and can be used as a stopgap solution if an axle shaft breaks. It also works for winching in a pinch, and can be used for a variety of repair jobs.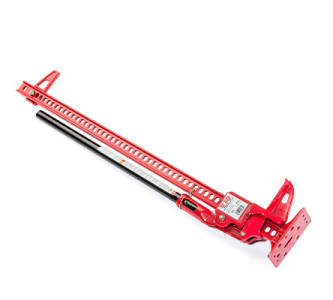 4. A work light.
You cannot assume that you will be able to get back up and running from every emergency before the sun sets. Be prepared with a hands-free work light which provides at least a few hours of bright light per charge. Bring extra batteries.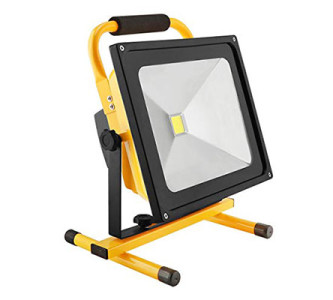 5. Recovery straps.
These may very well come with your 4WD rental, and are required in many locations if you are going to be off-roading. You can hook them up to another vehicle and pull on yours to dislodge it if you are stuck. Why not just bring tow straps? Recovery straps feature greater elasticity. This allows the vehicle that is doing the tugging to exert more force on the stuck vehicle. This in turn gives you a better chance at getting your vehicle dislodged.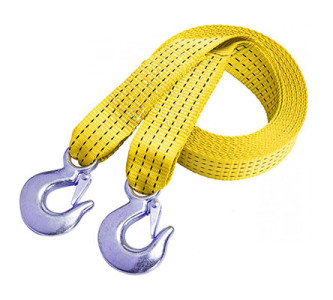 6. Recovery boards.
While a winch or recovery straps can help get your vehicle un-stuck, what if you are looking for a safer, more moderate approach? And what if there is no other vehicle available to help tug you back up onto the track?
Consider bringing nylon recovery boards with you. You can use these to shovel mud, dirt and rocks out from around your tires, and then you can place them in front of your tires. Dig them slightly underneath, and then use them as ramps to drive up and out of the mud, snow, or so forth.
You will probably find some other uses for recovery boards as well. They are one of those all-around great supplies for off-roading and camping.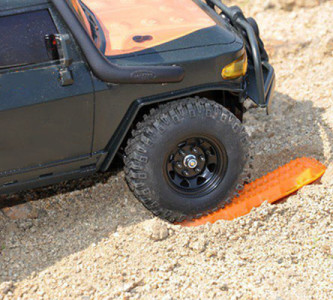 7. A tire repair kit.
You have a much higher chance of punching a hole in one of your tires off-roading than you do driving on the highway. Why take any chances? A tire repair kit may prevent you from getting a flat in a remote location where you'd have a hard time getting help. While you are at it, make sure you have a good air compressor.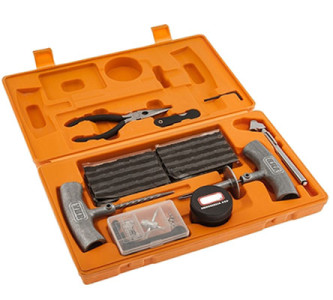 8. A personal locator beacon.
Finally, what will you do if none of your gear is adequate for getting out of a jam? You will need to find a way to call for help. If you are in a desolate, remote area like the Outback, you may have no reliable way to do this visually. You do not want to be stuck relying on smoke signals, mirrors, and messages in the sand reading "SOS."
Carrying a personal locator beacon can solve this problem. With a PLB, you can transmit an emergency signal for 24 hours or more. You register the device before you use it, so rescue workers who receive your signal immediately can identify you. With onboard GPS, your PLB tells the team exactly where you are. They can then come swiftly to your location to extract you from your predicament and return you safely to civilization.
With These Off-Roading Essentials, You Can Stay Safe on Your Adventures in Australia
You now know some of the most important gear to stock up on and bring with you on your 4WD off-roading trip. With these supplies on hand, you can hopefully stop a small emergency from turning into a big one. If you drive carefully and safely, you may never have to use these supplies, but you'll be able to proceed with greater confidence and peace of mind knowing you have them. Good luck!