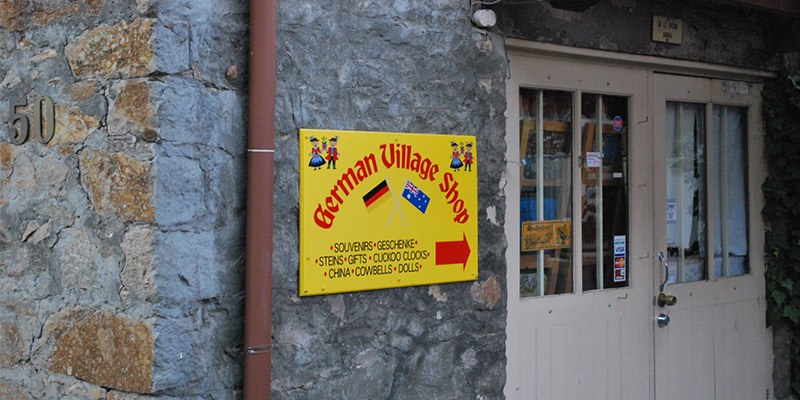 50 Main St, Hahndorf SA 5245, Australia +61 8 8388 7324 Website 9:30am – 5pm Adelaide Campervan Hire
employellie (contributor)
Well everyone else seemed to know about the German village of Hahndorf in the Adelaide Hills except yours truely. We went with a tour group but I am told you can easily go by the local bus.
Hahndorf is the oldest German settlement in Australia and very nice it is too. We strolled along the
main street…passed by the home made icecream and headed for the beer tasting at the local pub. I tried three different varieties of German beer and all were pretty good.
Quite a few little shops tempted me to take home some souvenirs.
An aside…I have just learnt 'Hahndorf' means 'Rooster' so I wonder why the name was chosen…
Well thanks to mindcrime who read my review I know now that what the tour guide told me was incorrect….not for the first time has that happened but I am not an avid researcher
So courtesy of mindcrime
"according to wiki the town was settled by Lutheran migrants largely from in and around a small village then named Kay in Prussia, many of whom were aboard the Zebra arriving on 28 December 1838. The town is named after the Danish Dirk Meinhertz Hahn, captain of the Zebra."
---
gristfog (contributor)
HAHNDORF
Visiting Adelaide!!!. What a great Aussie city this is.. There are many things to see and do when in Adelaide and if you have some spare time a great thing to do is visit Hahndorf.
Located not far from Adelaide and a pleasant busride this is really a nice way to spend the day. Hahndorf is a Town of German origins (est.1839)and settled very early in Adelaides History by Lutheran Germans avoiding persecution in their homeland.
The town is quiet, pleasant to explore and squeaky clean . There are many fine german buisinesses especially the restaurants that provide Germanic Faire and nothing has been lost in clinging to their German origins while being great Aussies. The food I found to be excellent along with the german beer .
I came up to Hahndorf to especially get some "Bratwurst mit Kartoffel Salat".. (Bratwurst sausage with potatoe salad) and a few german beers. Try some sorbet Ice cream at the OLde Ice Cream shoppe..or a "bum burner" sausage Hot dog… I wasn't dissapointed.
Hahndorf is the oldest permanent German settlement in Australia.
---
bowenslanging (contributor)
This was a plus for the trip – we got to pick our very own strawberries while me & my gang were in Hanhdorf.
The farm dates back to the 1830s when the Paech family settled down in Hanhdorf. It is still owned by the Paech family. The farm grows strawberries, sweetcorn and mixed vegetables but had since expanded to include sale of home made style jams, pickles, chutneys and sauces.
Strawberry season is between October-May so by the time we arrived in April, the best batches were already gone….but even that, did not dampen our spirits as 4 grown-ups were springing among strawberry beds eager to pick out the juicest of them all. The strawberries were fresh, sweet, juicy and succulent as we managed to find some over-ripe ones, not that we mind at all. Several we just popped straight into our mouths as the farm had assured us that they do not use any chemicals on their plants. We just don't get to eat FRESH strawberries like this back home! We managed to cart 2 large containers of strawberries, provided by the farm for free, back to our apartments, which we would wolved down with plenty of ice-cream! I remembered that we paid about A$2 each for about 1kg worth of strawberries, which was DIRT-cheap when compared to the stuff we had to pay for air-flown in from other countries.
Entry to the strawberry patches requires A$2 per pax.
The farm also has beautiful rose covered walkways. The perfume of red roses was just intoxicating.
Don't miss out on the strawberry jams (but what else) and the rose petal jams as well!
---
uranusglabella (contributor)
What can I say about this historic German town in the Adelaide Hills? Charming, lovely, seductive – made for a great day out of Adelaide – especially on the weekdays when you need not contend with the weekend crowd!
Many of Hanhdorf's inhabitants were descendants of Lutherans from Prussia (now Germany), escaping religious prosecution in the 1800s. In 1838, they reached Port Adelaide, and the kind hearted Captain of their ship was so concerned for their livelihood, he sought out this piece of land for their settlement. In gratitude, they name the township Hanhdorf, in honour of the kind Captain.
There are many old buildings lining the streets, stately old homes, charming cottages and ethnic restaurants, all exuding a different kind of European charm, one that is rich in Bavarian heritage. Come here for German food (like sausages and sauerkraut) and beer, but of course. Don't get me wrong, it is quite a touristy place, but one that had not overdone it in zest. Plenty of art and craft galleries, wineries and ethnic grocery shops exist peacefully, all while trying their best to charm you into parting your money from your wallet/purse!
Think I took Metro Bus service 840 from the city (via day-trip ticket) and the journey lasted about 40 minutes.
---
starcaramel (contributor)
This is a photo taken at the quaint little German/Australian tourist town of Hahndorf, in the Adelaide Hills.
There's not quite as much German charm in the town as there used to be in years gone by, but it is still nice, and there are many quality Australian shops as well.
There's a lot of history here too, in the old German buildings. I especially recommend the museum.
I really enjoy the bakery, especially the German one, the handmade boiled sweets shop, ice cream parlour, the leathercrafts shop, souvenir shops – truly we spent a
whole day just exploring one side of the street!
(My brochure says there are more than 100 venues in town to browse, and I can well believe it…it's a very long street and packed with shops to browse or buy in)
The German people who immigrated here to the Adelaide Hills and the Barossa Valley in the 1830's played a very important role in the development of the area (which if you're interested to learn further details of, you can read more in the Travelogue at the bottom of my Adelaide pages)
---
arenasneer (contributor)
This is the largest regional Art Gallery in South Australia. It has a gift shop, artists in residence, and works on display by the famous German immigrant artist Hans Heysen (he became one of Australia's most famous artists)
It is also home to the German Migration Museum, which I really enjoyed.
You can see many writings, books and relics from the German's early days of settlement history in the region.
---
Latest Images of Hahndorf, Adelaide