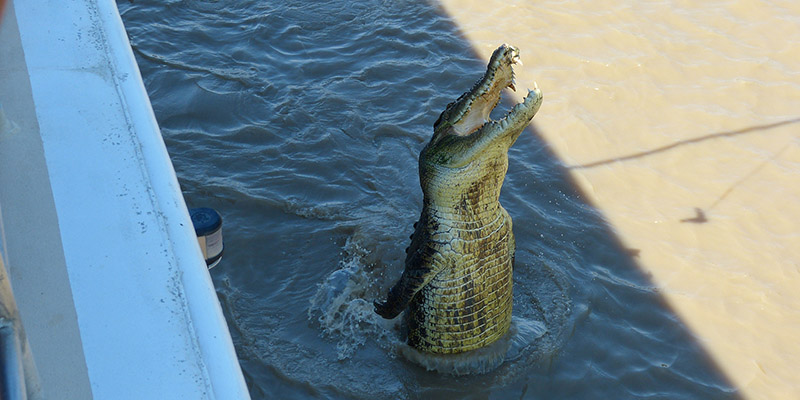 Arnhem Highway, Darwin NT 0836, Australia +61 8 8978 9077 Website 8am – 4pm Darwin Campervan Hire
sailorspots (contributor)
DARWIN
This is a worthwhile day out while in Darwin and is certainly a "close up" for anybody that has never seen crocodiles THIS CLOSE..The river cruise guarantees that you will see many large crocs and they certainly do that….The tour not only includes the river cruise but also stops at Fogg Dam "wetlands" for a look at an abundance of birdlife..and a visit to the "Window on the Wetlands" centre is most interesting with a detailed look at the local wildlifes ecological interaction with all the wetlands…there is also a great opportunity to handle some really large and small python (snakes).. I was more than happy with this day out..
---
elmocheese (contributor)
What I loved most about this cruise is that the crocodiles are in the wild, and it's up to them whether or not they partake in this tourism venture. As with most animals, food will attract them. I didn't see this as an abuse of their freedom in any way. This is probably not their normal behaviour, although jumping definitely IS something they do. But this is one way to see wild crocs up close and I found this very interesting. Seeing the structure and detail of their skin is amazing.
With the Jumping Croc crew, you feel very safe. On the larger Adelaide River Queen boat, there is an open deck above and glassed deck below. You get the better view on the lower deck naturally because of the angle you view the crocs when they jump.
---
officemonkey (contributor)
I came to Adelaide River via a 1-day tour with "Litchfield Dreams". This small group 12-pax day tour (7am-7pm) consisted of visits to the Adelaide River and Litchfield National Park. Cost of day-tour was A$99 (circa 2003).
Adelaide River is one of the most crocodile infested rivers in Darwin. Most folks came here for the jumping crocs…yes, you've read right….jumping handbags!
Upon arriving at the shed for the river cruise and after a morning top-up of tea/coffee and cakes, it was time to seek out leaping handbags. This part of the tour is handled by another company: Jumping Crocodile Cruise.
The cruise took about 1.5 hours. Along the way, seekers sought out the sun-bathing crocs along the muddy/swampy edges of the river. In fact, some of the crocs became so familiar that they were given nicknames.
Once a good location had been decided, staff then proceeded to hang chunks of meat via a long pole near the water to draw the crocs and once the crocs came reasonably near, the meat was then raised to induce the crocs to leap out of the water (hence, the "jump') to grab the morsel of food. For a frenzy 20 minutes or so, crocs were literally leaping around us. Folks staying in the lower deck would get to see the body of the crocs REAL close whilst folks on the upper deck would be busy clicking away trying to capture shots from a vantage point.
And there are quite a number of giant and powerful handbags out there. You wouldn't want to be in the waters with them.
Some folks criticised the circus-like atmosphere of this tour. Wild crocs were never meant to be fed thisaway and never meant to be leaping, had been the opposing arguments. While I do not totally disagree with them, the tour did allow me to see these giant reptiles up close in the wild. You don't get to do this everyday.
The cruise also provides a good opportunity to take a good look at the wetlands/mangrove swamps of Darwin and aside from crocs, chances to see other indigenious creatures such as kites.
---
jigglecosty (contributor)
The Adelaide River Queen will take you along the murky waters of the Adelaide River where you will find some of the most dangerous reptiles in Australia. Residents of the Northern Territory and other northern areas of Australia, the huge saltwater crocodiles are the stars of your time aboard this boat on the river.
Knowledgeable guides will do their utmost to attract these residents of the wild whilst educating you about their habitat and habits.
Alongside the saltwater crocodiles you will also find a wonderful display of birdlife which your guides will point out and tell you about. You might see hawks or kingfishers playing along and above the water.
Cruises operate from 1 April to 31 October at 09:00, 11:00, 13:00 and 15:00 and last approximately one hour.
---
fruitybolden (contributor)
On the Arnhem Highway right at the bridge over the Adelaide River there's the jumping crocodiles. This is the original operation and is worth the visit if you would like to see the capabilities of these monstrous reptiles in complete safety.
---
smarewolf (contributor)
This is a must, not only entertaining but also very informative. You learn about the crock, the specifics re sizes, ages, maturity etc, and you also see them in action and hear some of the croc's personal history as all are recoginised and named.
---
pendleride (contributor)
Commercial tour companies out of Darwin almost all offer jumping crocodile cruises. The cruises usually last approximately an hour and, while definitely touristy and not an altogether genuine wildlife experience, offer close up views of Estuarine Crocodiles ("Salties") jumping for meat. The crocodiles are wild, and it is fun to see at least once. In addition to the crocodiles, these feedings also attract Black and Whistling Kites, which put on quite an aerial display.
---
pushgeorge (contributor)
Chance to see wild crocodiles jumping out of the water and wild birds swooping down. The Adelaide River Experience operates a smaller boat with only 2-30 people in it's own section of the Adelaide River so you get to get close to the action. However it only operates during the "dry" season. We got a 1hr 20 minute cruise as part of our "1 hour" cruise and saw 5 crocodiles and a dozen black kites.
The cruise which leaves from near the Adelaide River Bridge on the Arnhem Highway operates larger (more crowded) boats and keeps to a stricter time limit.
---
Latest Images of Jumping Crocodile Cruise, Darwin
There are no photos that match your search criteria.