Litchfield National Park – Day Trip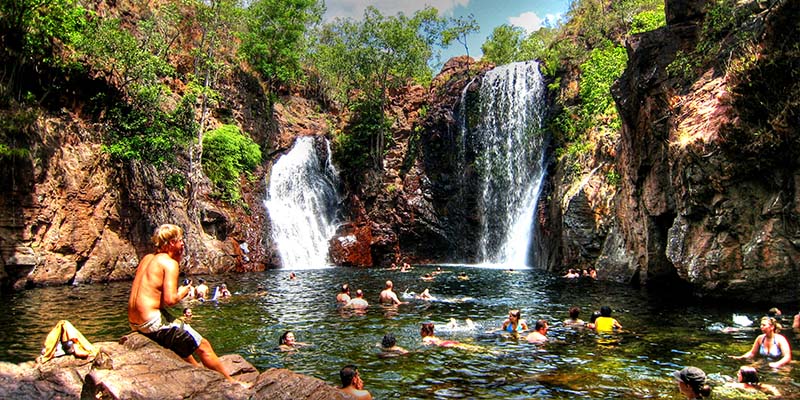 Litchfield Park Road, Litchfield Park NT 0822, Australia +61 8 8976 0282 Website Darwin Campervan Hire
bodykidd (contributor)
The largest falls in Litchfield are Wangi Falls. Here you can swim and snorkel in a large pool set in a rainforest.
In the wet season, the flow of water is awesome. The falls aren't accessible all year round, and swimming is sometimes prohibited after heavy rain due to powerful currents in the pool.
A nature trail leads from the camping and BBQ area to the top of the falls and back down to the car park.
---
bettystreese (contributor)
About 100 Km out of Darwin, Litchfield National park is a must see for a relaxing picnic, a dip in the pools below the falls, and some relaxing. Very beautiful, the natural waterfalls offer the perfect opportunity to cool off (especially after rediculously long motorbike rides down no speed limit freeways – see my travelogues) from the heat of the Northern territory. Take someone special, relax and just enjoy the coolness of the trees, the water, and watch as kids dive from the rocks – embarrassing me cause I couldnt do it, and yet these kids can and are so much younger than me!!!
---
miracleamble (contributor)
I came to Litchfield NP via a 1-day tour with "Litchfield Dreams". This small group 12-pax day tour (7am-7pm) consisted of visits to the Adelaide River and Litchfield National Park. Cost of day-tour was A$99 (circa 2003).
Wangi Falls is one of a few permanent spring fed waterfalls in the National Park. You can never take the Aussies out of the water, certainly not in such a beautiful environment with such crystal clear waters tumbling down on you. It is the one of the Park's best swimming and picnicking spots. Its campground is complete with hot showers, toilets, barbecues,a kiosk and serves as a good base from which to explore the Park. You can swim between May to October and watch the thundering waterfalls during the monsoon period.
There are platforms where you can take a rest and suck in the view, or you can do most of what folks do – stripped down to your swimming apparel and take a plunge into the inviting clear blue-green pool and get a nice water massage with the waters of falls tumbling down on you.
---
worrytom (contributor)
Located just over 100 kilometers south of Darwin and an easy days drive there and back with good blacktop roads all the way..a visit to this wonderful National Park is a great day out..over1500 square kilometers in area the parks main attractions are the many beautiful waterfalls, Make sure that you have time to visit the wonderful "Florence falls" This being one of many waterfalls in the park.The falls are quite a hike from the carpark area but information maps show you the way..This is a wonderful swimming area at the base of the falls and really quite beautiful in its location.I found it to be so cooling after the heat of the walk. There are also many wonderful swimming holes(most free of crocodiles)to be found in the park , The huge ant hills are a sight to behold some standing over four meters high there is just so much great all round scenery to be enjoyed…alive with birdlife and native animals make sure that your camera batteries are charged as this is a photographers dream. Also make sure that you bring your swimming togs and a towel as there are just so many great swimming spots..There are great campgrounds here and hiking tracks
Make sure that you have PLENTY of water with you at all times…
ALWAYS: take notice of signs near swimming areas as crocodiles get into some areas in the wet season
Be aware of your surrounding so as not to hurt yourself as some parts of this park are very isolated.
Carry your mobile phone and be aware of emergency numbers
Always use public toilets when in service areas. Better than being bitten on the bum by a snake!!!
---
keydisrupt (contributor)
A little more than 100 kilometers from Darwin, Litchfield National Park is a smaller, more easily accessible mimic of Kakadu National Park. Litchfield lacks Kakadu's Aboriginal culture and wildlife, and its gorges are nothing next to Jim Jim and Twin Falls. But a day here hiking around the waterfalls and swimming in the various waterholes is most enjoyable, particularly if you have been roughing it in the Outback for several days beforehand. In a day it is possible to see most Litchfield's highlights, including its termite mounds, Buley Rock Hole, and Wangi, Tolmer, and Florence Falls.
---
legendgop (contributor)
I came to Litchfield NP via a 1-day tour with "Litchfield Dreams". This small group 12-pax day tour (7am-7pm) consisted of visits to the Adelaide River and Litchfield National Park. Cost of day-tour was A$99 (circa 2003).
This is a spot popular with families. Practically crowded and the air is rich with the laughters and merriment of people really enjoying themselves. The spring-fed fresh cascades here are inviting and crocodile-free. You can hop from rockhole to rockhole, enjoying the sun and the warm cascading waters.
The red mud along the edges can also be used as body paint as long as you know how to mix them correctly and uniformly.
---
pochardhank (contributor)
I came to Litchfield NP via a 1-day tour with "Litchfield Dreams". This small group 12-pax day tour (7am-7pm) consisted of visits to the Adelaide River and Litchfield National Park. Cost of day-tour was A$99 (circa 2003).
One of the highlights of the Park are the numerous termite mounds (nicknamed "cathedrals") or…if you have it another way, high piles of termite excrement. These mounds can be higher than a grown man and as wide as a big tree trunk. In actual, these are the homes to termite colonies and inside the mounds, lay a network of paths, arches, tunnels, chimneys, caverns and insulation, meant to confuse and comfound attacking enemies as well as serving functions such as storage, nursery etc. (Ants are termites greatest enemies)
The mounds are aligned north to south to minimise the exposure to the sun, hence the term "magnetic". How nature guides the termites to build mounds with entrances facing the north is a natural mystery.
To me, they resembled giant tombstones.
---
fizzlabrador (contributor)
Unfortunately I only had 1 day spare after attending my nephews wedding plus a day to recover!!!!! I pre booked a day trip to Litchfield Park and only wish I had longer to experience at least an overnighter. It was brilliant. We visited and swam at several falls and water holes. At the end of the trip we received a voucher to eat at a local pub where we received a fantastic meal. Alternately there is also Kakadu which is probably the best known of the NT parks. Even a day trip is well woprth the time and money
---
puddingsbobcat (contributor)
Recommend going to Katherine Gorge, Cutta Cutta Caves, Litchfield National Park.
Katherine Gorge was great, travelling on the river in the gorge by boat spying crocodiles was certainly an experience I won't forget soon.
Cutta Cutta Caves was very good for tourists – well guided tour, stable path. Geared toward the first time cave visitor, not the experienced spelunker.
Litchfield National Park – termite mounds, walking down the creek, seeing the falls and climbing to the top were well worth the price of the tour.
---
Latest Images of Litchfield National Park, Darwin