Lone Pine Koala Sanctuary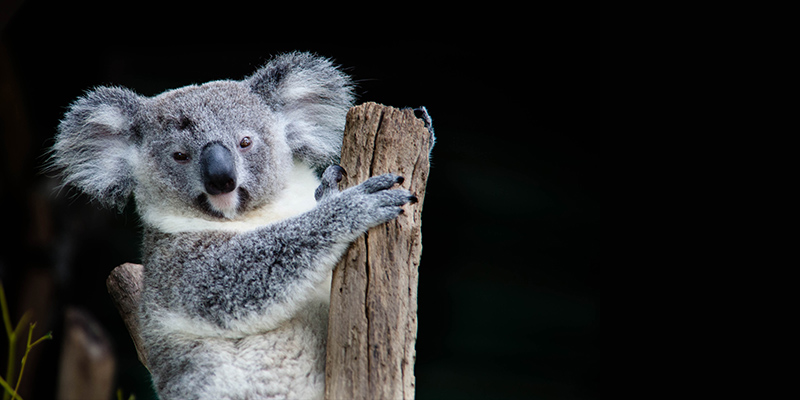 708 Jesmond Rd, Fig Tree Pocket QLD 4069, Australia +61 7 3378 1366 Website 9am – 5pm Brisbane Campervan Hire
fluffyrunny (contributor)
I thought I would tell you about some of the shows that are included in the Lone Pine Sanctuary admission price.
We were early, so made our way to the Aussie sheep dog show which is held 3 times a day, inside the Nature Kingdom.
Hours are………..
10am…..12.15pm and 3pm.
First, we had a look at some wool, then settled down on a bench to watch the Border Collie sheep dogs at work. Their master whistled and called them, and with a few hand signals, the Sheep found there way over bridges, through gates and eventually into a pen where the dog showed his skills by walking over the sheep's backs. These dogs are ever so clever, and a wonder to watch, they save the farmer a lot of hard work.
After this part of the show, then it was time to see the Shearer in action. We were told the basic details of sheep shearing, how much it has changed, and what the wages are today.
Then the shearer chose his sheep for the demonstration, and began shearing. Once finished, the wool was then thrown on the rack to be looked at and graded.
Quite interesting, more so for people that haven't experienced Sheep Shearing and herding before.
---
Patchestummel (contributor)
I consider the Lone Pine Koala Sanctuary the best place to see plenty of Koala's in Brisbane.
This was my 3rd visit, and an enjoyable one, as it was for my grandson's 4th Birthday.
We came by private car, but the local Brisbane bus number 445 leaves from stop 40 Adelaide Street, and number 430 leaves from Platform B4, Queen Street bus station. These stop right at the sanctuary.
Adult fares [2010] are $4.70 and children, pensioners and students are $2.40 (with valid I.D.).
Another great way, is to come by Miramar Boat which departs from the Cultural Centre Pontoon at 10:00am daily [near the state library] The cruise takes approximately one hour & 20 mins, arriving at Lone Pine Koala Sanctuary at around 11:20am, and departing for the city at 1.30pm
We arrived at 9am so we could enjoy all the shows, plus browse around the animal enclosures. There are quite a few different Australian Animals, Birds and Reptiles on display.
We took our own lunch and enjoyed it on one of the picnic benches by the River.
Even if you want to buy lunch, there are quite reasonably priced meals available, and plenty of undercover seating.
There are many Koala's, some were sleeping and some were active! Feeding the Kangaroo's and Emu's is allowed, but you have to buy the food, only $2 a bag. Best to do this early in the day before they get full.
You can get plenty of good photo's of yourself and them in the open and pat them as much as you want!
Toilets are located around the sanctuary.
We all enjoyed our day here, and I think if you are from Oversea's, you definitely would enjoy some time here.
To hold a Koala and have your photo taken was $16 in 2011.
Open daily from 8:30am to 5:00pm everyday
Prices in 2012….Adult $33.00
Child (3 – 13) $22.00
Student (with Student ID card) $24.00
Family Pass (2 adults + up to 3 Children) $80.00
Family Pass (1 adult + up to 3 children) $52.00
Concession $24.00
Backpacker (with YHA, VIP etc. card) $28
Children under 3 are free.
---
choctaw_spiritual (contributor)
After the Sheep Dog show, we wandered around and then went to the Bird of Prey Show which is held twice daily in the Nature Kingdom at 11:45 and 2.30.
We arrived at nearly starting time and the stands were full, so that meant sitting at the back. From here, we couldn't see very well at all, so I advise you to come at least ten minutes early and get a seat at the front.
The 1st Bird we saw, was Illuka the White-bellied sea-eagle. Where I live, we see them sometimes, but here, I was able to see them close up. She was a nice looking Bird, grey & white in colour.
Then they brought out Smudgee who is a Barn Owl. All owl species in Australia are threatened by loss of habitat but barn owls do adapt to rural area's.
Omega the Wedge-tailed eagle flew in, and what a huge wing span this Bird has!
Omega is young and very powerful. He can hunt down prey such as rabbits, juvenile kangaroos and geese.
We also saw a Barking Owl, but the Black Kite decided that it didn't want to be in the show.
All of these birds received a reward of a dead Mouse for a treat. Yummy for Birds!
This show is included in the admission price of the Park.
2011 Prices are…Adult $30.00 / Child (3 – 13) $21.00
Open daily from 8:30am to 5:00pm everyday
---
starvennison (contributor)
The Lone Pine Koala Sanctuary was about a 25 minute bus ride from Queen Street.
Once inside, you are surrounded by native animals – wombats, koalas, kangaroos, lorikeets, a reptile house, emus, wild turkeys….
For $15 you can get a 5×7 photo taken with you holding a koala bear. The experience alone was worth the $15 — we got to hold a 9 year old koala named David, and it was so amazing, just a rare opportunity so few people in the world will have!
Then, just across from where you take the photo, there is a gift shop that sells bags of kangaroo food — buy a couple bags (they were $1 each) and head to the fenced in area just down the path…. There you will step inside and before you know it, you will be face to face with dozens of kangaroos that will eat the pellets out of your hand, let you pet them and stick around long enough to take some incredible photos.
There are also emus, some turkeys and pigeons which are COMPLETELY annoying, but it is so worth it to feed the roos! The emus will also eat the food, but the emus were as big as me, so I was too afraid to feed them!
Please be advised, wear shoes that you don't care if they get a little dirty because, naturally, there are kangaroo droppings all over the place, completely unavoidable
If you are lucky enough to take a trip to Brisbane, you must not miss this place, its beautiful
---
fontshelf (contributor)
Lone Pine Koala Sanctuary is approximately a half hour drive from downtown Brisbane and is a great introduction to the famous animals of Australia. While we were there, we were able to see animals like kangaroos, pademelons, kookaburras, dingoes, cassowaries, and of course, plenty of koalas! For an extra fee (I believe it was $15 AUD), you can also hold a koala and have your picture taken with it. I had to do it of course, and it was totally worth it, even though I didn't like the musky koala smell that clung to my shirt the rest of the day. They also allow other people in your party to take pictures of you holding the koala. In addition to getting to hold a koala, you can also feed kangaroos, but we decided that we didn't feel like doing that. There are also presentations about the animals during different times of the day, and these were very educational.
If you have a chance to grab some of the numerous tourist brochures they usually have at hotels, there were several different kinds of coupons you could use at Lone Pine, including discounted admission tickets. There is also a coupon you can print out from their website for a free "G'day Pack", which we used. However, the G'day Pack was only a poster/map of the Sanctuary and I ended up leaving it behind as there was no way I was going to be able to bring that back to America without it getting crushed and wrinkled. We were under the impression that these might have been posters they couldn't sell, so maybe the "contents" of the G'day Pack vary.
---
FerretHumanist (contributor)
Named after the single hoop pine planted in 1865, beside the souvenir shop and office, this 20 hectare koala sanctuary is the oldest and largestof its kind in the world – accommodating over 130 koalas and 80 other species of Australian animals.
You can cuddle a koala, feed tha kangaroos and wallabies, and get up close with these furry native animals. There are crocodiles, emus (bush chooks!), Tasmanian devil, elusive wombat, frogs, birds, ducks and many other animals to see in this local zoo.
Lone Pine is close to inner Brisbane, and can be accessed by public transport.
---
longsafety (contributor)
This is the best (and safest) way to see some of Australia's native animals up close. On display are koalas, kangaroos, lizards, wombats, Tasmanian devils, and more.
The guides are very knowledgable and friendly and can answer any question about the animals in the park. They frequently give talks at the exhibits.
Unique activities include feeding the kangaroos and emus, and holding a koala (which was heavily tranquilized). For a few dollars, you can get your picture taken with the koala.
If you can't make it out of the city, or haven't had any luck seeing these animals in nature, this is a good place to go. It is open every day and admission is fairly priced at around AU$15.
---
joyoussunhat (contributor)
Lone Pine Koala Sanctuary is the World's first and largest koala sanctuary.
Nice place to spend a day with a large variety of Australia native wildlife. You can see koalas, kangaroos, wombats, dingoes, Tasmanian devils, snakes, emus, lorikeets, birds…
Possibilities:
– koala cuddling
– hand feeding kangaroos
– lorikeet feeding
– catfish feeding
– picnic or BBQ on the banks of the Brisbane River
open:
Mon-Sun: 7.30am – 5.00pm ($16)
---
Latest Images of Lone Pine Koala Sanctuary, Brisbane