Mt Cootha Botanical Gardens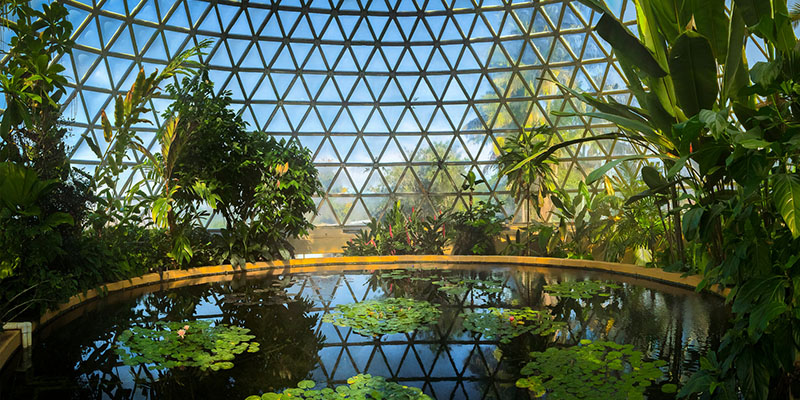 Mount Coot Tha Rd, Toowong QLD 4066, Australia +61 7 3403 2532 Website 9am – 5pm Brisbane Campervan Hire
leopardbelted (contributor)
Brisbane, and we have two Botanic gardens, one in the city, and one at Mt. Coot-tha.
We went to the Mt. Coot-tha gardens for another visit, and to take some photo's. These gardens are large, 52 hectare's, and they have 20,000 plants ranging from Arid, Tropical, Temperate, Native & Exotic. There is wetlands, and a bamboo grove, lakes and many winding trails, the Rainforest ones amongst the plants with giant leaves being my favorite!
There is plenty to see, and of course, Spring would be the best time to come. In March, there were not many plants with flowers, but we did manage to see some unusual ones like one that looked similar to a cycad.
There are plenty of "FREE BROCHURE "stands, pick up your brochure as it gives a detailed map of the gardens. There is a FREE CHILDREN'S TRAIL MAP if you have children with you.
Toilets, Picnic shelters, plenty of lawned area, and plenty of water fountains, so don't stress if you forget your bottle of water. The Restaurant was closed, and I could not see when it was re-opening.
ADMISSION IS FREE
FREE 1 HOUR GUIDED TOURS….. at 11.00am or 1.00pm (not Sunday).
OPEN…..Every day…..8-5.30pm [close 5pm April to August] There is car parking available, if full, another car park is across the road.
If coming by bus, catch number 471 which leaves from the corner of Adelaide and Albert Streets between 9.15am and 3.15pm, with the last returning bus at 3.50pm.
If coming by car, it is located only 7kms from the Brisbane CBD, and is about 15mins drive.
---
mingetorro (contributor)
First of all, I have not been inside this Planetarium as I have been inside one elsewhere!
This tip is here as information for you.
The Sir Thomas Brisbane Planetarium is located at the Botanic Gardens.
It has a Cosmic Skydome, which is a giant screen that displays digital feature shows and uses the Zeiss Star Projector to recreate images of Brisbane's night sky.
A Display Zone which features artefacts and displays, including fragments of asteroids and spacecraft models and images from the Hubble Space Telescope.
A Mini Theatre which feature shows on various astronomical topics and space missions are continuously screened.
An Observatory where Planetarium astronomers will help you see the night sky through the Observatory telescopes, of course it depends on the sky conditions that night on how much you see.
You can contact the Planetarium to make a booking for the Observatory.
And the usual, a Planetarium shop selling astronomy merchandise including telescopes, spacecraft models, star charts, globes, books, project kits, educational resources
OPEN….Tuesday to Friday 10am – 4pm
Saturday 11am – 8.15pm (entrance doors close at 7.30pm)
Sunday 11am – 4pm
ADMISSION……Adults $12.70
The Planetarium is closed on public holidays.
The booking office telephone hours are: tuesday to Friday 9.30am – 4.15pm
Saturday 10.30am – 6.30pm …Sunday 10.30am – 4pm
---
wigeonlancaster (contributor)
I didn't have children with me, but I did pick up the FREE CHILDREN'S TRAIL BROCHURE, and went and had a look.
From what I could see, if you have children, take them here, they would have good fun following the leaf Trail and finding the hidden sculpture's and more. It is a chance for them to see the Australian Stingless Bee, a Bamboo Bear, Tarzan Tree, some feathered friends, the Tallow wood tree that Koala Bears love to munch on and more, it is a learning experience as well as fun!
ps. [The Bamboo bear, Koala, etc are not real!] It is located amongst the shady rainforest.
So, pick up the free map, and start the trail and follow it to make sure you spot all the suprises and plant facts.
---
clutchrake (contributor)
The Japanese Garden is a quiet, serene area in the Botanic Gardens.
This Japanese Garden, a gift from the Japanese Government, opened in February 1989 after it was successfully moved from its previous home outside the Japan Pavilion at Brisbane's World Expo 88 to the Botanic Gardens.
At the Entrance, there are three Japanese characters that invite you to "come into the garden and enjoy the blue of the water and the green of the trees".
The theme of this Japanese Garden is 'tsuki-yama-chisen' or 'mountain-pond-stream'. As of all Japanese gardens, it features the key elements of stone, water and vegetation and includes a windy path leading you around the garden, giving you an element of surprise as you come around the corners. The garden is made of mainly local plant material, but still has that Japanese feel about it. A nice place to sit and enjoy the serenity is at the Tea house where there are bench seats.
March, and the nicely trimmed Azalea's were NOT in bloom, come in Spring [Sept/Oct/Nov] and they should be flowering.
An annual Japan Cultural Festival is held at the Garden in September, featuring Japanese tea ceremony, Japanese calligraphy and ikebana flower displays.
The gardens are situated seven kilometres from the city centre, are open every day from 8 – 5.30 pm…..From April to August they close at 5pm.
Entry to the gardens is free.
---
choughtablet (contributor)
Do you like the ancient Art of Bonsai?….. well, located right next door to the Japanese Garden is Bonsai House displaying about 100 plants including figs, conifers, camellias, azaleas and maples and more. Some of these specimens are more than 80 years old!
The actual Bonsai House is made from rammed earth walls, which are walls made of a mixture of decomposed soil, clay and cement which is mixed to a consistency equal to or stronger than conventional brick walls. This mixture is then rammed to form solid walls. The Bonsai house walls were made with soil from the location.
OPEN…..weekdays from 10am to 12 noon, and 1pm to 3pm
OPEN…..weekends and public holidays from 10am to 3pm
FREE
The Annual Bonsai show, put on by the Bimer Bonsai Society, is the place to see Bonsai demonstrations, Bonsai displays, semi-trained Bonsai, and to buy the books, wire etc needed to create your own Bonsai plant.
Held every year in April in the Mt. Coot-tha Auditorium at the Botanic Gardens.
Date 24, 25 April 2010…….9am-4pm
Cost $3 adult $2 child $2 concession
Bus 471 takes you to the gardens.
---
bosiedolla (contributor)
On entering the Mt. Coot tha Botanic gardens at the Entrance gate near the Restaurant, I picked up my FREE detailed walking guide of the Gardens, this is a MUST if you want to see everything of interest.
The 1st area was the "Cacti/Bromeliad House" which had a marvellous array of both species.
The Cacti had really grown since my last visit, and the display was excellent! A couple were in flower that I hadn't seen before.
Next, a walk through the Arid area of the garden, and here, more unusual plants on display, they seem to thrive in the warm, Queensland weather.
Remember, the Botanic gardens are FREE and open every day, but if you wish to visit one of the shows in the Auditorium, then there is a small entrance fee.
If you are visiting the long weekend in June, [Queens Birthday weekend] and are interested in these plants, then head to the Mt Coot-tha Botanical Gardens Auditorium for the annual show. Here there are displays of Cacti and other Succulents, decorative and rare plants from North and South America, Africa, Madagascar, and many other regions of the world. Information, cultural advice, plants and book sales are available.
Admission is $3 [2010]
---
cocolednock (contributor)
Located next to the Arid Region plants area, you can't help but see the large Tropical Dome made out of tinted panels and an aluminium frame. Even though Brisbane is warm/hot climate, the plants on display in here are ones that wouldn't normally be able to grow in Brisbane.
The climate is close to the natural growing conditions for plants.
If visiting from a "cold country" make sure you head in here, and see the tropical plants.
A pathway winds upwards through the dome building, around a central pond with water plants. This path led me past a lovely bright pink Ginger which was flowering, past plenty of HUGE leaved plants, ferns, shrubs, climbers, epiphytes, herbs and small trees.
OPEN….. between 9.30am and 4pm daily.
FREE
It is wheelchair accessible, and there are Toilets located here.
---
Latest Images of Mount Coot-tha Botanical Garden, Brisbane