Museum and Art Gallery of the Northern Territory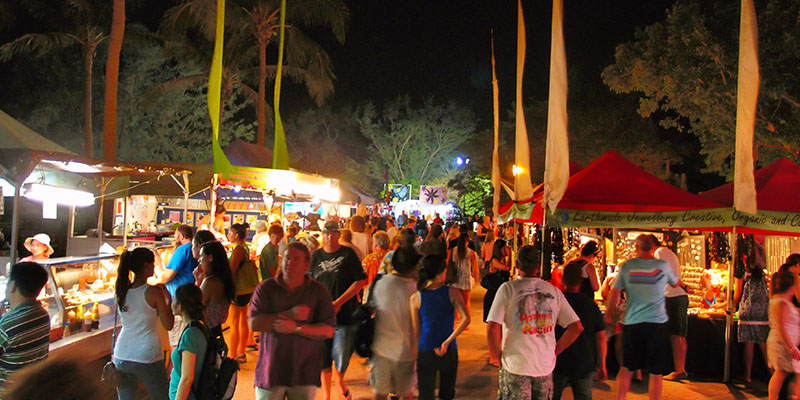 19 Conacher St, Darwin City NT 0820, Australia +61 8 8999 8264 Website 10am – 5pm Darwin Campervan Hire
laciechirping (contributor)
The greatest natural disaster in Australia's history was on 24 December 1974 when Cyclone Tracy destroyed the city of Darwin. Overnight, 48,000 people were made homeless by the ferocity of Tracy.
The Cyclone Tracy Gallery features documentary footage,photographs and for me, the most disturbing was being in a small darkened room with a thunderous recording of Cyclone Tracy racing through Darwin.
I imagined that all I would hear is a strong wind whistling through Darwin with a bit of crashing and banging. But in reality there is also the frightening sound of tin sheets scraping along the ground at over 200 km/h before crashing into houses, power poles and trees.
---
zenyattashops (contributor)
The Maritime Gallery at the Museum & Art Gallery of the Northern Territory is a collection of the different types of boats found in South East Asia.
Included are original pearling luggers, refugee boats and illegal fishing vessels. There are also smaller craft such as canoes and catamarans.
The exhibit is split level so you can view the boats from above as well as down below. It's housed indoors and airconditioned with a lovely view toward the blue green waters of Fannie Bay.
---
frizzymarvel (contributor)
Often referred to simply as MAGNT (the acronym), Darwin's Museum and Gallery is well worth a visit – and if you time that visit for the late afternoon it's just a stroll across the carpark to the Darwin Ski Club (separate tip) for dinner.
As you arrive, it must be said that the building looks to be more utilitarian than attractive. Inside though, past the reception desk and the surprisingly good bookshop, the galleries flow together extremely well and it's easy to forgive the 'form follows function' architecture!
MAGNT isn't large, but what's on display is very well presented. Upstairs you'll find the art section – focussed entirely on work by Australian artists, but spanning from John Glover in Van Diemen's Land of the early 1800s, through the Impressionists such as Rupert Bunny and on to more modern works. It's almost a "who's who?" of Australian art.
Downstairs there's a good display covering Australia through the geological ages; extinct wildlife from the dinosaurs to the megafauna which lasted until about 40,000 years ago with the coming of Aboriginals; and the current wildlife of the Territory. Head on a little further for an excellent display on Cyclone Tracey, including a "virtual experience" in which you stand in a darkened room (simulating a Darwin house on the night of the cyclone) while listening to a soundtrack recording of the cyclone itself. The clear sounds of large objects being thrown around at 250km/hr would have been far more worrying than the sound of the wind itself!
Visits to the MAGNT are free, but unfortunately there is a "no photographs" rule, so you will have to be content with my exterior photos.
Open weekdays 0900-1700
Weekends and public holidays 1000-1700
---
alpinespook (contributor)
I'm not a real 'museum' person but I really enjoyed this place. It is a great place to go to familiarise yourself with the aboriginal culture, learn all about crocs & it also has a great section dedicated to the big Cyclone Tracey that devistated Darwin in 1974 complete with sounds. I recommend you visit this place.
---
zestysnotty (contributor)
The Museum & Art Gallery of the Northern Territory overlooks the blue green waters of Fannie Bay and is set in lovely tropical gardens.
Exhibits include Aboriginal culture, maritime, archaeology & natural history plus a moving Cyclone Tracy Gallery showing the tragedy of Christmas Day 1974.
Admission is free but you will need to find transport because it's away from the CBD area.
---
perlbarr (contributor)
"Sweetheart" was a 17 foot crocodile who terrorised boats on Sweets Billabong for years. A giant of a crocodile his favoured trick was to attack boats and in particular propellars. In 1979 several locals decided to trap "Sweetheart" and transfer him to a crocodile farm, in so doing make their local billabong safe.
The task was very difficult and eventually they succeeded by baiting a trap with a dead Dingo they found by the side of the road. During the transport of Sweetheart to Darwin he died and was subsequently preserved and put on display in the Museum & Art Gallery of The Northern Territory.
Sweetheart competes with the Cyclone Tracy exhibit as the most popular exhibit.
---
warriortemp (contributor)
The Museum & Art Gallery of the Northern Territory (MAGNT) is a fascinating place to visit. It features the history, science and visual art of the Northern Territory and its people. The museum was originally located in the Darwin Town Hall which was was severely damaged during Cyclone Tracy in 1974. The new museum located on Bullocky Point opened on 10 September 1981. There is a permanent exhibit dedicated to Cyclone Tracy. They have a Discovery Center especially for kids with many "hands-on" displays. The Boat Shed Gallery was built in 1992 to display the Northern Territory's maritime history. The art collection consists of over 30,000 items of art and material culture. There is also a nice cafe on the ground floor. Admission is free. It is okay to take pictures of everything except the artwork. See also separate tips on the Cyclone Tracy Exhibit, the Discovery Center for Kids, the Estuarine Crocodile Exhibit, the Sweetheart the Crocodile Display, and a travelogue on the Boatshed Gallery.
---
sodabummin (contributor)
It was Bill Bryson who convinced me to pay a visit to this Museum/Gallery. (Heck, he devoted 6 pages of his travelogue "Down Under" to it) His narrations intrigued me enough to reshuffle my plans, make a detour and pay the place a visit.
The big draw in Bill's stories was the box jellies. There they were in the aquariums, floating gracefully by blinking so angelicly. It was almost hypnotic. How could something so small and so innocent-looking packed such a whallop of a sting, poisonous enough to kill a healthy human in seconds in excruciating pain? (In fact, it is a mystery why a number of indigenous Aussie creatures use extremely deadly poisons as a defence)
Another draw was "Sweetheart", a stuffed 5m, 780kg saltwater crocodile which was quite a celebrity in the 70s. This formidable predator gained notoriety for attacking several aluminium dinghies at a popular Darwin fishing spot, and on 19 July 1979, was finally caught in a trap and anaesthetised. Unfortunately in the attempt to haul him ashore, Sweetheart became entangled with a sunken log and drowned.
A 3rd draw are the Cyclone Tracy Exhibits. Cyclone Tracy hit Darwin on Christmas eve 1974, and almost flattened and destroyed the entire city. I remembered entering a sound room, and stood there in the dark, all alone, listening to the sounds of REAL wind (recorded during the attack) howling, wailing & menacing around me. Chilling.
The Museum and Gallery houses many other galleries of exhibits from areas of natural sciences to geology history to native, ethnic, contemplary and abstract artforms plus a huge maritime collection of watercrafts. The place could amuse you for quite a few hours.
Opening Hours:
Weekdays: 9am to 5pm
Weekends and Public Holidays: 10am to 5pm
Closed Christmas Day, Boxing Day, New Years Day and Good Friday.
There is a gift shop as well as a cafe: Cornucopia Museum Cafe
Admission to the museum is FREE! (however entry fees to some exhibitions may apply)
---
drillsleuth (contributor)
I was attracted to the museum as I'd heard they have an excellent permanent exhibition on Cyclone Tracy, the cyclone that all but destroyed Darwin on Christmas Eve 1974. In the lead up to that cyclone a next door neighbouring family had moved to Darwin from our own suburb and we feared for their lives as the news of the cyclone hit our airwaves 'down south.' It was some days later that we heard the family had survived the cyclone and dad and the kids had made it back to Melbourne, while 'mum' had to be taken to a Sydney hospital for treatment for her injuries sustained that terrible night in Darwin. Some weeks later she was repatriated back to Melbourne to join up with her family. Needless to say our TV and radio news reports at the time were full of reports on the devastation caused by the cyclone and the stories on how 20,000 + people were evacuated by air from the city in only a few days.
The Tracy exhibition graphically portrays that terrible event in Australian history. We were amused at some of the movie like sets used to display the interiors of homes in the lead up to the cyclone and well remembered some of the furnishings from that era. There is an excellent Cyclone Tracy on line exhibition.
The museum has much more to offer and includes an exhibition on 'Sweetheart,' the unfortunate name for a massive crocodile that attacked smaller fishing boats. He was captured but unfortunately died and is now preserved for all to see – quite a scary exhibition! (photo above)
There is a lot more to see at the Museum and Art Gallery of the Northern Territory and includes Aboriginal art, natural history of the NT and a fascinating collection of sea going craft from Australia's neighbouring countries that have made it into the Top End – and included a Vietnamese boat that somehow made it carrying 9 'boat people' from the 1978 (photo above).
Depeniding on your interests, allow 2 – 3 hours minimum to appreciate the museum – where entry is free.
There is also an excellent on-site café that serves a wide selection of food and drinks – and yes it is licensed. We went one afternoon and then had dinner and drinks while watching the sun set at the across the road Darwin Water Ski Club (separate tip).
---
Latest Images of Museum and Art Gallery of the Northern Territory, Darwin