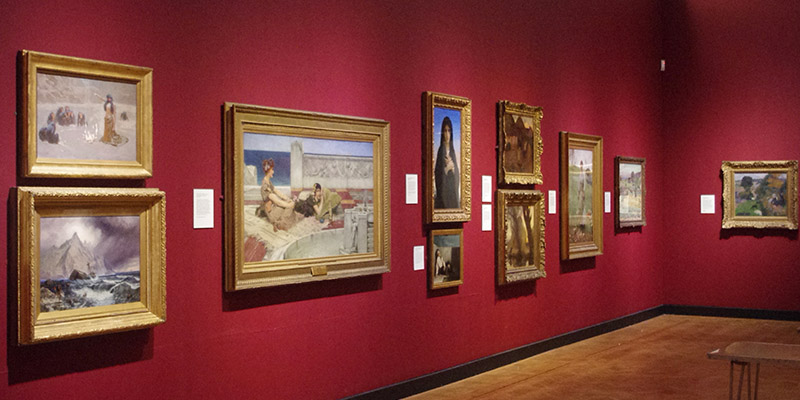 1 Laman St, Cooks Hill NSW 2300, Australia +61 2 4974 5100 Website 10am – 5pm Newcastle Campervan Hire
fraysubstr (contributor)
There I was, ogling the latest exhibition at Newcastle Gallery and I thought, "I haven't put this on VT yet!". So I'm now correcting that error.
The two storey gallery in Laman Street, Cooks Hill always seems to have a very eclectic mix of works. I just happened to be viewing 3 of Rodin's sculptures when I realised I hadn't seen that many in one room ever.
The great photographic exhibition and "Coral Garden" that were there at last visit exceeded Rodin's works in my opinion, but one thing you can always rely upon is that one of the great Australian painters will be on show. For instance, Lloyd Rees, Russell Drysdale, Sidney Nolan, William Dobell, Arthur Boyd, Rupert Bunny, Tom Roberts, Arthur Streeton, Conrad Merton were all on show, along with one of my all time favourite, Albert Tuckers "Explorers fording river".
This is not a huge gallery, but a very eclectic one and, if you are artistically inclined, there will be something there to interest you.
In my general pages is the story of Bill Dobell, a famous local artist who was influenced by many and, in turn, influenced many himself.
His style, as evidenced in "The Strapper", didn't appeal to all and, when one of his works was awarded Australia's highest award, the Archibald prize for portraiture, it was taken to court and disputed that it wasn't a portrait but a caricature. Luckily for Bill, and I suspect, art in general, the award stood.
---
Latest Images of Newcastle Art Gallery, Newcastle