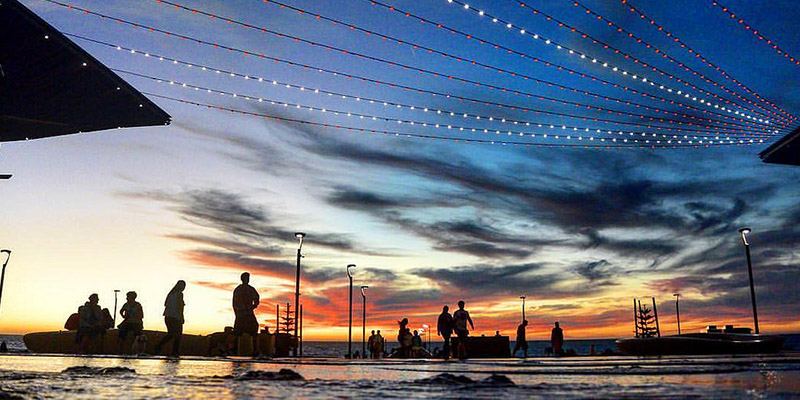 Seaside Suburbs, Australia Adelaide Campervan Hire
shardvenus (contributor)
Adelaide is often referred to as the Festival City because of the disproportionately large number of festivals it has compared to Sydney, Melbourne and other Australian cities. Two of these festivals are held, back to back, at Brighton in the later half of January each year – the Brighton Jetty Beach Sculptures and the Brighton Jetty Classic. The Brighton Jetty Classic is an open water swim while the Sculpture festival (fashioned on similar events at Cottesloe Beach in West Australia and in Sydney – Bondi's Sculptures by the Sea) is a display of around 80 sculptures, some along the Brighton Esplanade set against the beautiful backdrop of the Gulf St Vincent and the balance within the local Surf Life Saving Club.
As I have attended neither event I do not presume to review them and my comment is by way of introduction to one sculpture, as depicted, which was part of the sculpture festival in 2011. All the sculptures displayed during the festival are new pieces of work and are for sale and this is how the local council acquired this piece, 'Person Sitting on Bench', by local artist Ty Manning.
Readers familiar with Australia will be familiar with "Ironmen" – who compete in 'Ironman' competitions which, when done at the beach, combine the four main disciplines of surf lifesaving into a single race; swimming, board paddling, ski paddling and running. Well, this is the ultimate Ironman as this person (sex unknown) is made from recycled metal. While I like the overall sculpture I think the addition of the portion of fish and chips on newspaper (all metal, off course) on the persons lap is a nice tie-in with the sculpture's seaside location. All in all, I feel it meets its aim, as stated on the accompanying plaque, of capturing the simple pleasures of life by the seaside. You judge for yourself.
As you can see from the images attached it was Christmas time and the sculpture was suitably adorned to mark to festive occasion. Someone had also added a hat atop the sculptures metal hat.
When the sculpture was bought there was the usual barrage of complaints that typically accompany the display of public art. Here there was a particular emphasis on how the sculpture had taken up, and thus wasted, half a park bench, denying those in need of a rest a seat. This line of attack quickly died down when complainants were reminded that the park bench was actually part of the sculpture and that, in fact, additional seating was now available for those in need of a rest on the esplanade!
---
sweepten (contributor)
The Arch of Remembrance has pride of place in Brighton, on the foreshore right in front the jetty. Indeed, it is a grand and formal entrance to the jetty.
Rather different than the standard WWI memorial, this arch (or rather the original one) was designed by J. D. Lyons of Prospect (an Adelaide suburb) who won a competition run by The Town of Brighton and was constructed in 1926 to remember the 114 people (of whom 22 died) from the Brighton area who served in the 'war to end all wars' (WWI).
As we all sadly know, WWI didn't end all wars and two additional bronze laurel wreaths were added to the front of the Arch following WWII with later additions on either side to remember those who served in or died in Malaya (1945 – 1960), Korea (1950 -1954), Borneo (1962 – 1966), Vietnam (1962 – 1973), Malaysia (1964 – 1965), Gulf War (1990-1991), East Timor (1999 – ), Afghanistan (2001 – ) and Gulf War II (2003-2011).
The large central bronze plaque on the front of the Arch is the insignia of the Australian Imperial Force (A.I.F), better known as the Australian Army "Rising Sun" Badge.
Those with a good eye for detail will note that the dates recorded (within laurel wreaths on the front of the Arch) for WWI are 1914 to 1919. While WWI officially ended on 11 November 1918, members of the armed forces were not demobbed out of the services until their return to Australia which would not have been until some time in 1919. As such their service to Australia continued until 1919, the date recorded on the Arch.
As intimated above, the arch you see today is a copy of the original 1926 Arch which was damaged in a storm in 1963. My final picture attached was taken (though not by me!) on the day the original Arch was opened in 1926. It is from the resources of the State Library of South Australia. The current Arch was constructed in 1964.
---
brunocassius (contributor)
Brighton is one of a number of seaside suburbs along the beautiful Gulf St Vincent and a personal favourite of mine, though as all the coastal suburbs differ slightly they are all worth a visit should you have time. Most visitors, being time poor, will opt for one or maybe two stops along the coast.
My reviews on this page and my separate pages on Glenelg and Semaphore will hopefully give you a taste of what lies between Outer Harbor to the north and Brighton to the south of the Lefevre Peninsula – a distance of around 30kms. While it may not be an option for most visitors, cycling along this beautiful white sand beach coastline is the best way to see it.
I digress, back to Brighton.
Pre-European settlement, this area was dominated by large sandhills and long sandy beaches. While the former have made way to roads, houses and other developments, the later remain. Even the original Aboriginal inhabitants of this area, the Kaurna people, enjoyed a paddle in the sea and would visit the area in the summer time.
In 1833 Colonel William Light, first Surveyor-General of the Colony of South Australia and thus responsible for the design/layout of Adelaide generally, surveyed the Brighton area which was assigned to wheat and grape growing before it became a place of retreat for wealthy city professionals. With the advent of the car and railway (which now terminates at Grange, a few kilometres up the coast) the small settlement here grew quickly becoming a popular day trip destination for Adelaideians seeking that famous Aussie tan though, off course, in the early days beach attire was not what it was in the 1960s and later.
Hotels and guest houses soon opened as did shops, cafes and ice cream parlours along Jetty Road. The Roaring 20s was the heyday for Brighton. Art deco, as a form of architecture, reigned supreme in Brighton (as it still does today, to a greater extent than other similar vintage places along Gulf St Vincent). Further advances in cars actually lead to a decline in Brighton's fortunes for a time while punters headed further afield. In recent years, however, as people have become less time rich there has been a resurgence of interest in Brighton which has duly been tarted up and has again assumed its role as the trendy place to be seen wining, dining and promenading.
In more recent times, the Jetty has also had a facelift, paid for by a local telecommunications company as evidenced by the thinly disguised mobile phone tower on the end of the jetty.
In addition to relaxing by the beach, promenading on the esplanade or visiting a café (the oddly named 'A café etc' with it Marilyn Monroe theme on Jetty Road, depicted in picture 3, is one of the more popular cafés here) do have a look at St Jude's Cemetery – final resting place for many early South Australian pioneers, Sir Douglas Mawson – famous Antarctica explorer and a rather eccentric priest – the Reverend Alexander Macully. While on the Esplanade do take a minute to remember those who have died in various wars and conflicts – you can't miss Brighton's very distinctive Arch of Remembrance. For those with more energy to burn, head south for a walk along the cliffs and trails down the coast.
---
felinechracaig (contributor)
In another review on this page I alluded to the fact that the area around Henley Beach and Grange was formerly highly prized farming land by virtue of the existence of rich alluvial soils. The large expanse of alluvial soil was due to the fact that the Torrens River, until 1934, stopped short of discharging into the sea, being stopped by the bank of sand dunes which runs along this part of the coast. Unable to escape, the river regularly flooded leading to fertile soil in the area.
The increase in roads and buildings in the catchment area in the late 19th and early 20th century made things worse and flooding became more regular.
In 1934 a channel, Breakout Creek, was dredged to let the river freely flow into the sea.
Upstream, about 2kms from the coast, is the Breakout Creek Wetlands constructed (in two stages, 1999 and 2010) to restore the area's natural habitats and slow the River Torrens down, permitting sedimentation and absorption of nutrients thereby improving water quality before its discharge into the Gulf St Vincent.
Breakout Creek Wetlands now, in addition to providing a home for numerous native plant and animal species, including fish, frogs, birds and invertebrates, is a beautiful area to wander around and enjoy the plants and animals. Birds you might spot here include swamp hens, mallards, cormorants, moor hens, coots, pelicans, herons, egrets, silver gulls and black swans. In my short visit here I saw most of these.
While visiting the Wetlands, don't miss the the nice arrangement of mosaics on the left river bank, approaching from the coast – see my separate review.
The Torrens Linear Trail (a cycle/walking trail) runs through the Wetlands and it was during a ride along the Trail which runs almost 40kms from the Adelaide Hills foothills to the Coast that I came across the Wetlands. If you approach from Henley Beach it is a short, almost flat, ride by the river (Breakout Creek) along which you will almost certainly see some horses on the riverside agistments. This, as you can see in picture 4 attached, is quite a pretty ride (or walk) providing a nice diversion from the hustle and bustle of the coast, especially on holidays or at the weekend. The Wetlands are about 2 kms in from the coast so, all up, about 4kms from the centre of Henley Beach via the coast and river path.
One word of warning though, do watch out for the monster as you pass under Tapley's Hill Road (picture 5)!
While not advised, you can get to the Wetlands by walking/riding along the busy and comparatively boring Henley Beach Road ( a couple of kms from Henley Beach) but in so doing you miss half the fun. If driving you will, of course, have to use the road.
---
idolizeddiva (contributor)
One of the most enduring art forms over the last few thousand years has been that of mosaics, which I simply adore.
I had no idea that these mosaics existed here on Henley Beach Esplanade until I came across one heading north on a bicycle ride along the Esplanade. Then I came across another and then another.
In all, along this Sea Creature Trail, there are thirty beautiful sea-life mosaics, all created by over 80 community members in association with a local arts centre – The Changing Canvas – which, incidentally, runs various types of art workshops and training, should you be interested. For amateur work, these mosaics are of an amazingly high quality made all the more palatable by being set against a beautiful beach and ocean backdrop.
An unexpected, though welcome delay, at the beginning of my bike ride to Outer Harbor. I should add that the mosaics are easily accessible on foot from the jetty heading north along the esplanade towards Grange which itself is only about 20 minutes walk from Henley Beach.
---
mammarypill (contributor)
Henley Beach (named after Henley-on-Thames in England) is an Adelaide beachside suburb which, as the name suggests has a beach, and an excellent one at that, part of a 30km plus beautiful white sand beach which runs from Outer Harbor south to Brighton and beyond. Henley Beach is one of many seaside resorts on Gulf St Vincent and one of my favourites – genteel yet modern.
The rather well healed surburb, from a visitor perspective, is centred around a small square, Henley Beach Square which is pretty much lined, on three sides, with restaurants. These include Estia, a quality Greek restaurant at which I had lunch – highly recommended (picture 4). Less than fifty metres south on Seaview Road is a branch of Royal Copenhagen Ice Creamery and Dessert Bar – delicious and a firm favourite of mine. Royal Copenhagen ice-cream can also be procured at Brighton, Glenelg, and Semaphore. Alas the Adelaide City store is, like the parrot on Monty Python, is no more.
Talking of eating, which I don't do a lot in my reviews, I also recently ate at another restaurant in Henley Beach, Evida Café at 269 Seaview Rd (not on the square). While having decent sea views, from its window seats, we had to wait ages for what was overpriced and poor quality food.
Like all the other resorts along the Gulf St Vincent, Henley Beach has a nice jetty – great for a walk and it becomes a welcome refuge (under it) from the sun on a hot day. Sadly gone however, lost in a storm in 1945, is the old Henley Beach Pavilion (picture 5) with its three floors of Devonshire teas, fine music, and ocean views which used to adorn the end of the Jetty.
Also gone is the tramway and railway line which used to connect Henley Beach with the city centre. The train now terminates at Grange about 20 minutes beautiful walk, north along the esplanade. Along this highly recommended walk, just as you leave Henley Beach you will come across some (in fact 30 of them along the way) beautiful mosaics. See my separate review – Mosaics on the Rocks.
A great way to get to Henley Beach is to cycle there from the city centre, around 15kms one way (or from the foothills of the Adelaide Hills – approx 37 kms one way – if you are up to it), along the River Torrens which meets the sea a couple of kilometres south of Henley Beach Square. See my separate review on the River Torrens Linear Trail. If you don't want to ride back to the City, ride up to Grange Station and take the train which permits bicycles – concession fare during peak times, free in non-peak times.
Henley Beach is a lot quieter and more refined (if I may use that word in a non pretentious way) than Glenelg a little further to the south and has better dining options than Semaphore to the north, but less of historical interest. It's really a matter of what you are after and even your mood on a particular day – all the resorts along Gulf St Vincent have something different to offer and are very worthy a visit.
---
americatrees (contributor)
As I indicated in my more general review on Grange, the Grange Land & Investment Company set about developing the village as a seaside resort in the 1870s-80s. In addition to building a hotel and the jetty, the company (or rather an associated company) planned on building 24 three story terrace houses, the Marine Residences, on the esplanade. As it happened only 8, those you can still see today, were built. These three story terraces, extremely rare in Australia, were modeled on similar residences popular in British seaside resorts such as Brighton at the time.
The terraces, designed by architects Bayer and Withall, were built between 1882 and 1883 using stone thought to have been ballast carried by sailing ships. One of the first residents of the "Marines" was Arthur Harvey, joint owner of the Grange Land & Investment Company, who lent out one of his rooms to the Anglican church for services until a church was constructed in 1885.
As you can see from my pictures the terraces are well preserved and retain most of their original features such as a corrugated galvanised iron roof, rendered brick chimneys and beautiful balconies decorated with cast iron balustrades, columns and lace.
These luxurious terraces are sought after homes and rarely change hands. In 2012 it is thought that No 1 (the one originally owned by Arthur Harvey) sold for $2.45million. They cost £1,050 when built in 1883.
---
siriustoys (contributor)
Grange, formerly a village separate from Adelaide, is now one of a number of seaside suburbs to the north of the city, along the beautiful coast of Gulf St Vincent.
Once one traverses a small amount of vegetated sand dunes one gets to a beautiful white sand beach. Bring your own shade, sunscreen and lots of water. There are ample access points along the esplanade and there is direct access from the small commercial part of Grange by the jetty.
Grange is named after the 1841 cottage of the same name, owned by famous Australian explorer Captain Charles Sturt.
In the 1870s, 380acres of land, owned by Sturt, was secured by speculators Frederick Bucknall and Arthur Harvey.
They, via their Grange Land & Investment Company (later Grange Railway & Investment Company), set about developing Grange as a seaside resort – to that point its rich alluvial soils had only attracted farming folk to the area.
Development as a resort was slow due to lack of reliable transport links with Adelaide.
This soon changed and a horse tram service via Henley Beach commenced in 1882 and a railway service via Woodville commenced in the same year.
The Company also built the Marine Residences (separate review), the jetty (1879) and the hotel.
Significant private development ensued and today Grange is a popular, though quiet and peaceful, resort with sufficient remnants of early streetscape to provide interest in addition to the obvious beach and coastal walk/ride attractions. There are sufficient eating options here and Henely Beach, offering a lot more, is only about 2.5kms walk away – a lovely coastal walk.
Make a day of it and visit both!
An easy excursion from Adelaide. If you have access to a bicycle you can take it here on Adelaide Metro train service which in any event provides the most direct and fastest (25mins) public transport service to Grange from Adelaide Railway Station.
---
Latest Images of Seaside Suburbs, Adelaide