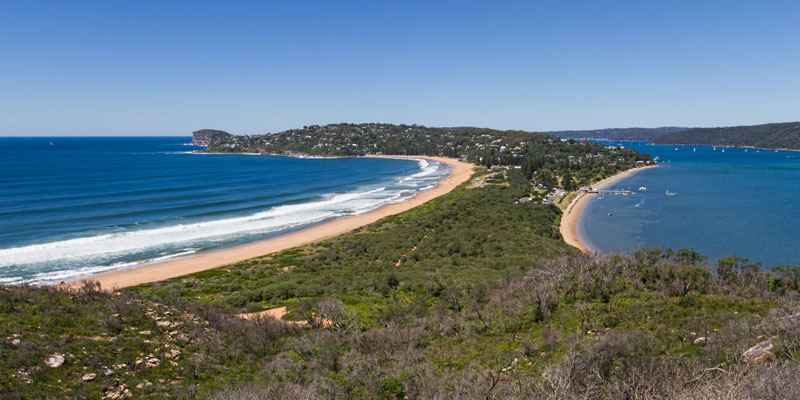 Sydney North Campervan Hire

Palm Beach
ZiggiP (contributor)
The ultimate beach destination in the Sydney area is without a doubt – PALM BEACH. Yes, it's about 90 minutes north of Sydney CBD, but it's truly worth the time to get here. Not only is the drive one of the most scenic I've ever been on, it's almost magical it's so beautiful. Travelling north up the coast, enjoying the beauty of beach after beach.
This beach is incredible and amazing. The most northerly of the "northern beaches". Perfect for swimming, sunbathing, walking along the water, surfing, enjoying a picnic or BBQ, people watching. It's no secret that many celebrities and well known people from Australia and all over the world come to enjoy this beach. They also film outdoor scenes from Australia's tv soapie HOME & AWAY at the north end of the beach. You'll recognize the scenery if you a regular viewer.
Beautiful golden brown sand, warm tropical breezes, gorgeous palm trees, breath-taking multi-million dollar homes and unforgettable views. This beach is very special.
If you are feeling adventurous, there is a fantastic walk up the Barrenjoey lighthouse with even more spectacular views. You'll need at least an hour to do the walk and also good walking shoes and plenty of water.
Fish & chips, souvenirs, specialty shops and more can be found here at Palm Beach. The L90 bus also stops within steps of the beach itself. If you are driving, parking might be challenging, but with patience or a bit of walking, you can find a spot.
I would put this beach on a must see list for any Sydney visitor who enjoys beaches. And it's also a photographer's dream.
Don't forget your sunscreen & extra water – they are an absolute essential.
---
Manly
laze_around (contributor)
Manly is one of my favourite places in Sydney. To get there is an adventure in itself. You have to take the Manly ferry from the ferry terminal in Circular Quay. In 30-40 minutes you will arrive at Manly Wharf. There is a lovely hotel there with a terrace where you can sit outside with a cold drink to enjoy the view of the harbour. After the drink make your way through the shopping street to reach the beach. It's beautiful here trust me on this one. But I'm not the only one who thinks that, since Manly is one of the most popular beaches in the city. You can play some volleybal here with the locals or simply bake in the sun and ride the waves either on a surfboard or a bodyboard, or you can of course use your own body to surf the waves!
After a day of lazing about you can make your way back again to the shopping street for some surf wear shopping and back to the hotel for a nice drink. Try and take a ferry back around sunset or simply watch the sunset from the terrace!!
---
Balmoral Beach
Pie45 (contributor)
Balmoral Beach is one of Sydney's most exclusive suburbs; with historical Aboriginal sites,Taronga Park Zoo, breathtaking views, stunning architecture, and wonderful gorgeous beaches mixed with a diversity of boutique shops and first class restaurants and cafes, Balmoral/ Mosman is one of Sydney's loveliest suburbs.
Balmoral is really a must do. The Borogegal Aboriginal tribe inhabited the area before the area was settled in 1830 as a whaling station; it now houses Sydney's most expensive and prestigious real estate.
Mosman is home to some of Sydney's stunning harbour beaches such as Clifton Gardens, Chinamans, Balmoral, and Obelisk beach. It has some magnificent architecture, where you can find huge Federation mansion to small Victorian cottages.
Mosman is easy to get to by public transport by catching the ferry to Mosman Bay Wharf and connecting to the bus to Mosman Junction.
Balmoral Beach can be reached by catching the ferry to Mosman Wharf and then hopping on the bus to Mosman and walking down Raglan Street to the beach.
From the city you can catch the Balmoral Beach Bus from opposite Wynyard Station.
---
Taronga Zoo
Joshyboi (contributor)
Taronga Zoo is a great zoo. It is situated at the north shore of Sydney. You have to take the ferry to get there from Circular Quay. Once on the other side of the harbour you can either decide to walk to the top, since the zoo is built on a hill, or you can take the chair lift, which is much more relaxing and exciting too.
Once at the top you can explore your way from there. A lot of the animals in the zoo are native australian animals. At the entrance you can immediately see some koalas for example. To get really close to them you can pay 3 dollars, which I thought was really worth it. On to the kangaroos, platypuses, emus etc. So much to see in this zoo, that also has a great view over Sydney's Harbour Bridge and Opera House.
A good tip is that you can buy a ticket at the Circular Quay ferry terminal which includes a return ferry trip to the zoo and entrance to the
zoo for only 31 dollars.
---
Ku-Ring-Gai
palos (contributor)
Today we woke up, along with the sun at silly (which may i add, was wearing it's trilby) AM and set out on MISSION MOUNT KA-RING-GAI! An hour later, subwayed up to our eyeballs we arrived in a wierd si\ort of place. It was like stepping back in time, to an era of 'happy' friendly people, the sort of people that now only exist on boats, the people who wave at you and say hello when you walk by. Very much unlike the city dwellers that we know to well, and the caniving "friend" called Sian, who quite happily lets people steal Sprite on her behalve, namely Kev who stashed it in his bag before payment…something which when later relied upon at the till, she denied all knowledge, infact, ignored the question all together, to traumatised from the 1001 questions that you get asked when ordering a buttie.
So anyways, we arrived at the valiant national park, and set off on the trek, to Sians horror. I feel at this point it must be noted that she turned up wearing jeans, a hoody and had a handbag…very…rambler, though a good sport non the less. An hour or so down mount everest we arrived at this lovely little spot and ate our soggy sub's, was a welcome treat, we deserved, especially on Sian's behavle, who it may add has no idea what the area looks like as she was more interested in her interviews she was booking up along the way, 5 in one morning may i point out!
So as i am sure you can all imagine, the rest of the trek was well, trek-like, trees, spiders, wallabies, which kev shit himself when it lept off a rock above his head, it must be said that his heart did jump higer than this wallaby and enterd nack into his boddy via his anal canal.
Thart's pretty much that, 9km later, a few rivers, hills and THE WORLDS MOST DEADLY SPIDER, we trained it back, exhausted and sleepy to the big smoke of Sydney!
Once again that's all for todays installments! remember to check the pics out and look back in a few days for the, what i am sure will be, the Blue Mountain Fiasco!
---
Latest Images of Sydney North