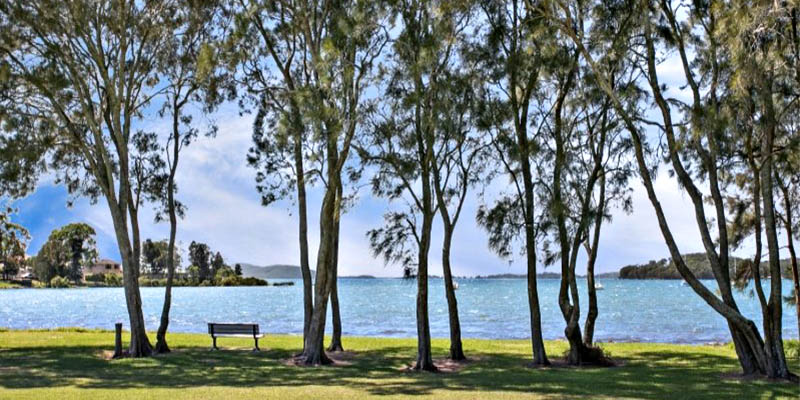 Tanilba Bay, New South Wales, Australia Website Newcastle Campervan Hire
sortbaton (contributor)
Tanilba Bay means 'place of wild flowers' [thought to be Flannel flowers] It is located in a quiet spot, surrounded on three sides by the waters of Port Stephens and Tilligerry Creek.
It was quite a surprise to us, when we were greeted by large gates at the entrance to this small community.
The huge stone centenary gates were built in 1931 to commemorate the arrival of the first settler, William Caswell. He came to Tanilba, built Tanilba House in 1831, lived there for about ten years before moving to the Williams River.
The house is open for inspections Wednesdays, weekends, and every day during school and public holidays.
Telephone: 02 4982 4866.
Tanilba house faces Port Stephens across Meridian Park, and has more stone landscaping.
Other points were the street names, ……Navy Nook, Army Avenue and Diggers Drive. were chosen to remind residents & visitors of the heroes of the World War I, Both the gates, 'The Water Gate' with the bollards from H.M.A.S Sydney, which was briefly in Port Stephens on its way to being scrapped after World War I, and 'The Entrance Gates' near Lemon Tree Passage Road, were built using unemployed workers during the Depression
Small Tanilba Bay was quite a surprise!
Located about 40mins from Newcastle.
---
Latest Images of Tanilba Bay, Newcastle