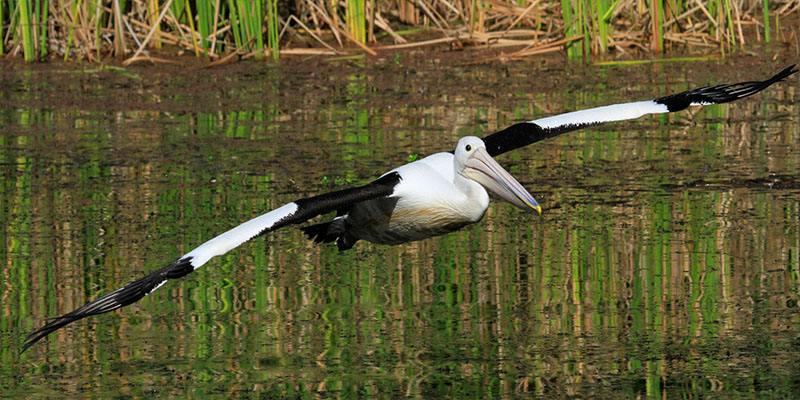 Cox Peninsula Rd Berry Springs, Darwin NT 0838, Australia +61 8 8988 7200 Website 9am – 5pm Darwin Campervan Hire
sludgetribe (contributor)
Another 'must see'. This was an amazing place. Hubby & I could have spent all day here easily! Our va's enjoyed themselves too :o) It's like a surfari with a train that takes you around and you get on and off as you please and it is very well presented.
We did the monsoon walk, the wooded walk and visited the acquarium.
---
bahmild (contributor)
This park is located right next to the Berry springs nature reserve. The park covers quite a big area, so make sure you wear Sunburn cream, as there is quite a bit to see in the sun. It showcases the animals that you would find in the Northern Territory and there are shows as well. There are lots of walking tracks, and a free shuttle train that runs continuously around the 4km trail, you will probably need it in the heat, we did. There is a cafe, picnic area, and drink machines are located throughout the park.
The park is open from 8.30 – 6 pm daily
Admission in 2008 is $20
---
sexyumbriel (contributor)
A unique opportunity to take a walk on the wild side awaits you just 40 minutes drive south of Darwin at the Territory Wildlife Park.
Imagine getting nose to nose with a 3.6 metre salt water crocodile, or standing beneath a typical Top End river! The Aquarium at the Park is a fabulous attraction and presents a variety of aquatic habitats that would be found along a typical Top End river system.
There are 26 major exhibits and all are linked by 6km of walking trails that weave through natural bushland. There is also a free shuttle train that travels a 4km circuit.
The Territory Wildlife is open daily from 8:30am until 6:00pm. An Adult fee is $18.00 with a Child fee of $9.00.
---
parseleven (contributor)
This is great. A very informitive and peaceful place to visit (if you are not in a VT group that is, VT groups are NEVER peaceful)
There is so much to see here, Nocturnal house, Aquarium (with a Croc), and many animals in their own settings.
They also have bird's of prey displays, and other activities.
There is a cafe here where you can get drinks, snacks and meals.
---
citrilnasal (contributor)
We visited here during the Darwin VT Aussie Meet of 2008. It is situated in Berry Springs which is a 45 minute drive south of Darwin, next door to Berry Springs Nature Reserve.
The park opened in 1989 and is a project of the Northern Territory Government, Parks and Wildlife division.
There are many different enclosures and locations within the park where it is possible to see wildlife up close. Alongside these enclosures there are a number of daily presentations. It also has a walk-through aquarium and it is possible to get up close to a saltwater crocodile.
---
cupprofuse (contributor)
The park has three main areas:
Wetland – Goose lagoon, Aquarium, Billabong
Monsoon Vine Forest – Walk-through aviary
Woodland – Flight deck, Nocturnal house
The highlights were the flight deck which showcases a number of birds of prey in flight (10am, 3pm) and the aquarium. Some of the birds are only flown at one of the shows, so if you are only going to see one, you might want to check which birds are flying. The show includes a demonstrations of the Osprey diving underwater for food.
There is a free shuttle train around the park or you can walk. The distances between some exhibits is fairly long so I would suggest using the shuttle train between these. You are given a map when you enter which includes distances (or you can view on their web page). There are also introducing hire bikes which will make the park much easier to get around.
Recommend combining with a visit to Berry Springs to make a day trip. There is a Bird of Prey demonstration at the Wildlife Park at 10am and 3pm. We went and watched the 10am show and then got a pass out and went swimming at Berry Springs and then returned to the Widlife Park for lunch and the 3pm show.
---
parityodbc (contributor)
Here you walk through a display that showcasts all animals of the Northern Territory during the night – and there is plenty moving around after the sun has set.
---
Latest Images of Territory Wildlife Park, Darwin