The Benefits of Hiring a Campervan over a 4WD Camper or Motorhome
If you have decided that you want to rent a vehicle that you can eat and sleep in while you are travelling in Australia, you have made a very smart decision. No matter what type of vehicle you go with, you can save a lot of money on the cost of food and hotels, plus you can enjoy unparalleled comfort throughout your trip. All of the money you save can be used to pay for tours or to extend the length of your trip, enabling you to see and enjoy even more of what the Land Down Under has to offer.
But there are pros and cons for each of the different types of vehicles you can rent: campervans, 4WD campers, or motorhomes. The trick to maximising the value of your rental and getting the most out of your vacation is to choose the type of vehicle which is the best fit for your needs.
In this article, we will focus on the advantages of campervans over the other two types of vehicles. Be sure to also read our articles exploring the benefits of 4WD campers and motorhomes so that you can make the most informed decision about your rental.
1. A campervan is a compact option which is easy and affordable to drive and park.
If you have never driven a large vehicle before, the first time you climb into the captain's chair of a motorhome, there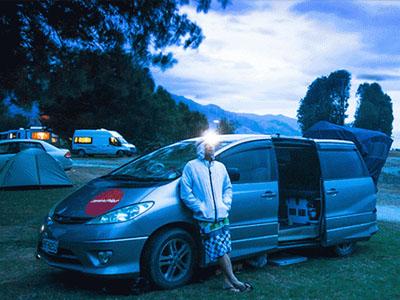 is a pretty good chance you will be feeling overwhelmed. Trying to manoeuvre such a hefty vehicle (or even sit comfortably behind the wheel in some cases) can be a challenge for a lot of people. Turns and backing up are much harder, and if you are driving along a windy road (say along the coastline for example), you often have to take it slow to ensure that your vehicle remains stable.
A campervan largely eliminates these difficulties. It is a much smaller vehicle than a motorhome. Essentially an augmented van, it is easy to manoeuvre and control, even in windy conditions. That can make for more pleasant driving if you are not comfortable in a large motorhome. You can actually focus a bit on the scenery instead of allowing all of your attention to be absorbed by your driving.
The other benefit comes back to costs. Because you are hauling less weight around with a campervan, you should not need to buy as much petrol, reducing your fuel costs for the trip. Additionally, you need to find spaces which can accommodate your vehicle to park for the night. A motorhome cannot fit in every parking space, but a campervan generally can. This opens up more options if you are in a campervan, and it also helps to keep your parking costs at a minimum. Parks often charge more for larger spaces because they know that motorhome drivers have no choice but to pay for them.
2. Multiple configurations give you lots of options.
Another great thing about campervans is that you can choose and pay for only the features and space you really need.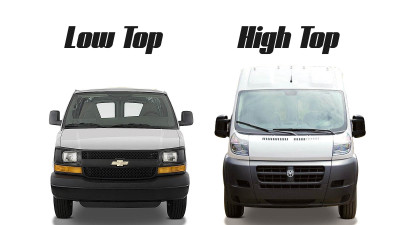 This is because there are two configurations for campervans: low top and high top.
Just as you probably guessed, the "low top" campervans are the ones with the low roofs, while the "high top" campervans are the ones with the higher roofs that provide additional space.
If you feel that a low-top campervan is too confining and you want to be able to stand upright, you can pay more for a high-top model. If on the other hand you are not concerned with the extra space, a low-top campervan lets you save money.
Campervans are not as well-equipped as motorhomes, which definitely offer more in the way of amenities and comforts. Still, both high-top and low-top campervans provide you with the basics. With a low-top campervan, you get a fridge and sink in most cases, while a high-top campervan also offers you a dining area, perhaps a microwave, and extra sleeping spaces.
So with a campervan, you get to choose and pay for only what you need, making it a flexible choice on a budget.
3. Campervans are one of the most cost-effective ways to travel.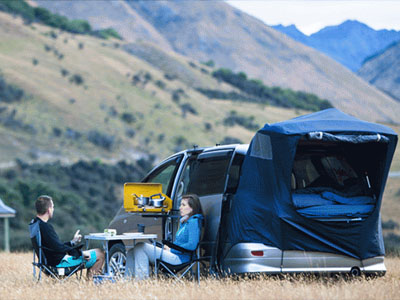 And that brings me to the last major benefit of campervans. They cost less to park and drive, and they also cost less to hire. This is true of not only low top models, but high-top models as well. Both motorhomes and 4WD campers are more expensive, even though 4WD campers are often not much larger than campervans (the added expense for 4WD is for insurance).
So for those who are travelling on a budget who do not need a lot of extra amenities or space, a campervan is a wonderful way to see Australia. Don't forget to check out our articles on the benefits of motorhomes and 4WD campers as well if you think one of those options might be a better fit for your journey!