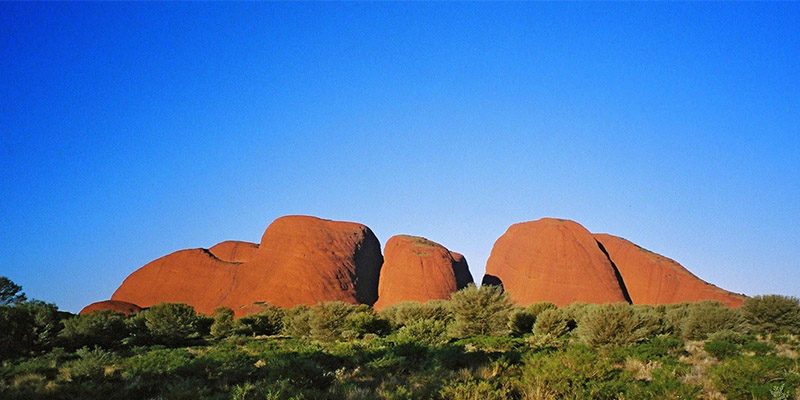 Lasseter Highway, Uluru NT 0872, Australia +61 8 8956 1128 Website 8am – 5pm Alice Springs Campervan Hire
masticateripe (contributor)
On our day trip to Ayers Rock we visited the Olgas. We had a walk through the centre of these beautiful mountains. It was hot on the way. On the way back a breeze had started up. The breeze was like a furnace blast and blew sand into our faces. I felt like I was having all my skin removed, but the mountains were beautiful. Quite relieved to get back on the air-conditioned bus.
---
copyrightprojects (contributor)
NATIONAL PARKS TRIP
When I booked into Annies for my accomodation..I discovered that from here I could organise and book my trip to The National Parks of Uluru Kata-Tjuta (Ayers rock and Olgas)and Watarkka (The Kings Canyon).. The trips go very regularly..they are for three days and two nights..The transport is a 20 seat bus..that was reasonably comfortable..The trip..leaves early morning and the bus tows a large boxed trailer that carried all camping equipment ,food and personal packs..The driver, guide and cook was a jovial personality that made the trip enjoyable..everybody got to know each other quickly and the group was made up of more than a dozen nationalities..everybodys choice of music was pretty continuous.
DAY1…first day was the drive to Watarkka (Kings Canyon National Park) .most of the afternoon spent here…different walks are taken here depending on the grades of fitness..This is really a marvellous Canyon to see..from here we drove to Curtain Springs (where we viewed Mount Connor and a marvellous sunset) coomonly called "fool a ru" as upon first sight everyone thought that it was "Uhuru" We all camped in the Bush under the stars for the night.(this was outside the National Park)..everybody got togeather and got firewood for the evening..then, dinner…clean up and campfire chat and drink…also Curtain Springs is the only place to buy alcohol out herebecause the aboriginal areas forbid the sale of alcohol
DAY 2 The next morning was early start.. breakfast and the drive to The Uluru National Park and directly to Kata Tjuta ( the Olgas)..I enjoyed this most of all…once again the walks here can be extreme. They are long an arduous.although it was winter it was hot.So,after the day exploring this amazing Unesco Cultural site we dove then to Yulara. Yulara is the complex within the National Park and run by the National Park administrators..all sorts of accomodation are available here. All is expensive!!
.we once again camped for the night under the stars.(the night sky is to be beleived here)we had good cooking amenities here and plenty of firewood at site….also good clean shower and toilets..(great).(see note at end).
DAY 3…once again an early start ..breakfast, clean up and out to the Uluru ( Ayers Rock).. and what an impressive sight this is..all day is spent here with many doing various activities…climbing…walking and viewing..Plenty of time to do and see what you choose..also visit to the Aboriginal Cultural centre here ..lots to see..and various shops in the complex.Aboriginal art and all sorts of hand crafted wooden souveniers here . The drive out in the evening saw us all setting ourselves up for the "sunset photos" I was quite surprised that the hundreds of cars and busses that just seemed to come from nowhere..after the sunset we set out for our return trip to Alice Springs.I was also surprised to see so many tables set up for dinner with lovely white table cloths and beautifully set out with cutlery ,crockery, and champagne glasses.all being fussed over by immaculately dressed waiters in white shirts , black trousers and black bow ties..I remember thinking..Boy! some people really travel well..!!!
This was a really enjoyable camping trip and I could not fault it for the cost….The food wasn't too bad really although simple ..mostly pasta and the like..although we had a BBQ breakfast second day.(I was the cook).it was GO GO GO as we covered a lot of miles in the three days..about 1000 kilometers all up round trip.
The bus was relatively comfortable and made stops when neccesary at truckstops.
I hired my sleeping bag and swag at Annies for about $30.00.
National Park entry fees were extra 25.00
The all up cost for everything was just under $320.00 which I thought was a really good deal…considering what was done and seen in the three days..when I first arrived I wasn't sure of what travel group I would take ..This was a good choice for budget travel..this would be hard to beat..yes..I would do it again it was great..as for the sleeping bag and "swag" for the unfamiliar..it was comfortable ..even as the nights were very cold..
SPECIAL NOTE..Remember also this is a National Park and wildlife are in abundance here.
.I awoke to find a Dingo with four others trying to drag off my shoes..after a well aimed shot with my waterbottle he left…it could have been different.
.ALSO…always make sure you 1..take a torch…2.. have plenty of water with you at all times..
3.have sunscreen..4.a good hat…5 some lip balm..6.good walking shoes..
---
Latest Images of The Olgas, Alice Springs