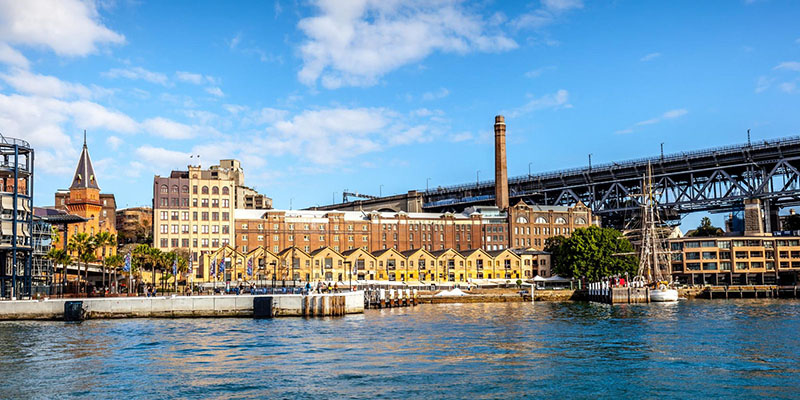 The Rocks NSW 2000, Australia +61 2 9240 8500 Website 9am – 5pm  Sydney Campervan Hire
DexterRedundant (contributor)
"The Rocks" is site of Sydney's oldest settlements. Years ago, prostitutes, hoodlums, criminals and probably politicians (just joking) used to roam these streets, making life a bit dicey.
Today, "The Rocks" has been gutted and restored as a historical treasure. It's now home to cafes, pubs, shops and other items of tourism interest.
On Saturdays, there is a huge outdoor market held at the Rocks, and we had a chance to enjoy it. There's nothing of major consequence for sale at said market….just lots of "flea market" type stuff… Jellies and jam, calenders, handicrafts, music, incense, and even emu oil. (see my warning regarding emu oil. : )
There are quite a few restaurants in "the Rocks", and some of them are quite pricey. We had some pizza at Zia Pina (see tip), and it was very good. I also noticed the famous Lowenbrau Keller on our way down George Street. They advertise it as being the place where "it's always Oktoberfest". Looked kind of like Oktoberfest to me, except that a few patrons weren't completely drunk. ; )
Anyway, go explore the Rocks. See what treasures you can dig up. BTW, you'll be passing through the Rocks on your way to the Harbour Bridge.
If you'd like to take an official walking tour of the Rocks, contact "The Rocks Walking Tour" at phone number 02 9247 6678.
---
Pitteradvise (contributor)
Although alot of travel trips are not booked perfectly, if your plans include a weekend in Sydney, I would highly recommend strolling through the Rocks. On weekends it is turned into a large shopping area where you can haggle on some great local art, handicrafts and also sample some unique food. Although alot of the shops in this marketplace also have storefronts throughout Sydney, your best bet is to come in late in the day when the shop owners are fretting over having to pack up all the wares to ship back to the store, and might be enticed to drop a couple bucks off the price rather than repack.
---
Crowxiamen (contributor)
The first building at the same place where you will now find the Observatory, used to stand a windmill and that was also the first european building. The Observatory houses some of the oldest astronomical instruments of Australia. Entrance to the Observatory is free. However if you want to have a peek through the telescopes you have to make an appointment for the evening and then you do have to pay a few dollars.
---
amazingchallenge (contributor)
When at the Quay..visit the historical Rocks area of Sydney…right by the Quay (FERRY WHARVES)at the southern end of the bridge and also lower George Street..situated in this area is what is left of the very first buildings that were built here at time of settlement..time obviously has taken its toll here with a lot of the buildings being demolished at the time of the plague in Sydney town..also being by the docks this was a certainly dangerous place to be at night in early days ..with all sorts of theives and villains occupying this area…There was a move to demolish most of the old buildings in the early seventies but thanks to the black bans introduced by the BLF unions and after many demos..these unique and prescious buildings of Sydneys heritage and history were saved..this historical area today can be enjoyed just walking around the streets and taking in this old part of Sydney…the first and oldest pub(s) are here (see my tips)and Cadmans cottage (headquarters of the NPWLS) National Parks and Wildlife Service..it is all so easily accessible by foot…
---
mimimaterials (contributor)
The Rocks is nestled at the foot of the Sydney Harbour Bridge and on the western shores of Sydney Cove. It is the foundation place of Sydney and Australia, and of enormous historical signifiance. It is often described as "Sydney's outdoors museum".
The Rocks is the oldest area of Sydney and has recently undergone an amazing metamorphosis, the old district being transformed into a vibrant pocket of cafes and restaurants and interesting tourist shops and stalls. This has been achieved without destroying the area's Old World charm and historic buildings. Sydney's town planners have put in place a sensitive conservation program that has preserved the heritage and character of The Rocks and brought about an interesting fusion of modern amenities in an old and valued setting.
---
Latest Images of The Rocks, Sydney