8 Reasons a Kitchen Is an Awesome Feature in a Motorhome Rental
If you are thinking about hiring a campervan or motorhome for your next vacation, you have made a great choice. Motorhomes and campervans offer you many conveniences which hotel rooms generally do not—not the least of which is a functional kitchen.
You can expect your kitchen to include a fridge and freezer (or an esky, in smaller campervans) at minimum. You likely will also have a gas cooker and possibly a microwave and an oven. Counter space will be quite limited (or nonexistent), but there are ways to get around that.
Actually, having a kitchen can enhance your vacation in a number of ways. Let's check out 6 benefits of renting a motorhome or campervan which includes one.
1. Spend less time and money eating out.
Perhaps the most obvious advantage of travelling with your own kitchen is that you can purchase ingredients and cook your own meals instead of eating out at restaurants two or three times a day.
Eating out during a vacation can add up fast, chewing through hundreds of dollars even on a short trip. Locating places to eat and driving to and from them also takes up time you could be using to hike, drive or explore—so cooking and eating in your motorhome can cut back on trip expenses and free up valuable time.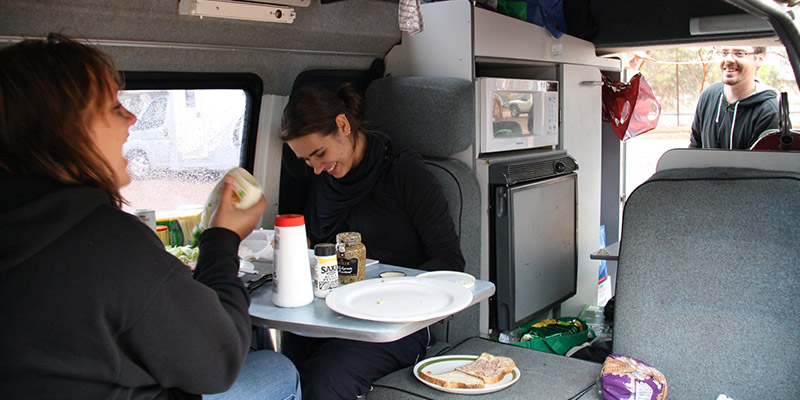 2. Eat well even in remote locations.
Sometimes driving to grab a bite to eat a restaurant isn't even a feasible plan. If you are spending the night at a campground in one of Australia's vast and beautiful wilderness parks, you may be quite some distance from town. In that case, your dining selections may be restricted (and will generally come at a premium).
With your own kitchen in your rented motorhome, you will not have that issue. So long as you pick up ingredients or pre-packaged meals on your way to the campground, you will have plenty to eat when you arrive. You can just relax and enjoy all the park has to offer.
3. Save your leftovers.
When you do eat out at restaurants, the rule of thumb is: "Why charge customers for one portion when we can charge them for two at twice the price." Restaurant portions tend to exceed what you can actually eat in a single setting. At home, you could pack up the leftovers and enjoy them the next day, but on vacation, leftovers usually go to waste.
Since you should have a fridge and freezer in your motorhome, you can box up the extra food from restaurants and eat it the next day, just as you would at home. None of that delicious (and pricey) food needs to go to waste.
4. Prepare tasty meals for fussy eaters.
Travelling with picky eaters, like kids for example? Trying to satisfy fussy eaters on the road can present a daunting challenge and can really up the stress of travelling. You can make vacations more fun and less stressful for everyone in your family with a rented motorhome that includes a kitchen, because you can prepare meals to everyone's tastes. That means no more arguing about which restaurant to go to.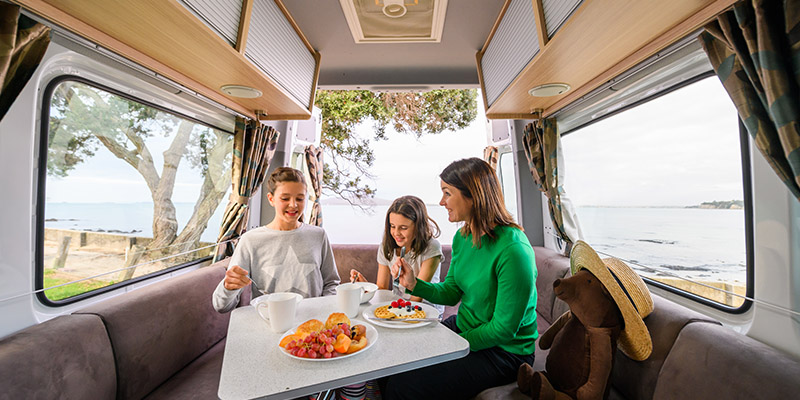 5. Enjoy your favourite foods on the road
While going on vacation is about getting away from the ordinary, it is still easy to miss the things you love about being home—like your favourite meals. But you can bring a bit of home with you on your travels by preparing your own recipes in your campervan kitchen.
There is an added benefit to doing this too which you might not think about at the time. Vacations tend to cement themselves pretty vividly in our memories because they are unique experiences, and we also tend to create strong associations with tastes and smells. So when you get home and make those same meals again, they will remind you of all the fun you had on your road trip.
6. Eat healthier.
Another drawback of eating restaurant food every day on a trip is that you are not necessarily putting healthy, nutritious food in your body. In fact, you never have the full list of ingredients for restaurant meals, nor do you know where they came from.
You have no idea if you are eating organic or not, or what kinds of unwanted additives might be in your foods. Many restaurant meals are also high in carbohydrates. There is a reason so many people put on weight during vacation.
The kitchen in your motorhome lets you get around this problem. You can shop for your own ingredients and prepare meals which are high in nutrition and low in empty calories and carbs.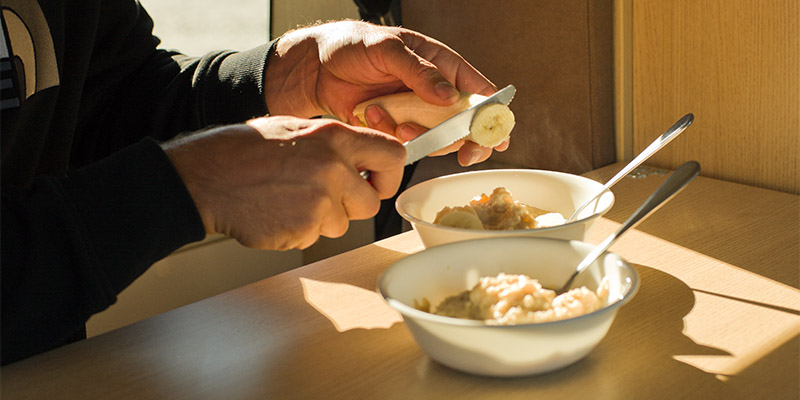 7. Prepare food for special dietary needs.
Speaking of healthy eating, lots of people have special dietary requirements which restaurants may not be able to satisfy. Eating out as a vegetarian or vegan can be a challenge, and it can be even harder if you are looking for gluten-free foods or so on. With your own kitchen on the road, you do not need to worry about this. You can cook foods which are healthy and safe for everyone in your group.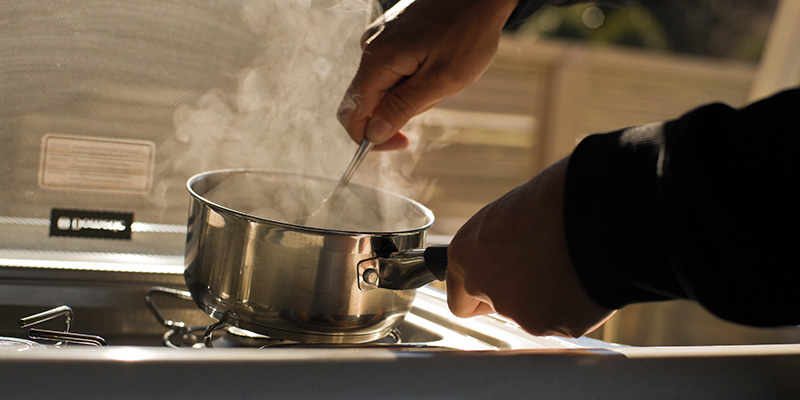 8. Feel better on vacation.
Finally, there is one other great benefit to having a kitchen with you on your travels—and that concerns how you feel. Have you ever noticed that you are more likely to get sick on a road trip than you are at home? There are a number of possible reasons for this. Heightened stress and greater exposure to crowds could be responsible—but for some people, food is also a factor.
It isn't necessarily that the food you eat on trips is "bad"—but it is unfamiliar. It may be prepared using different oils than your body is used to, and as a result, it is more likely to give you indigestion than the foods you are used to.
When you make your own food on your trip, you can cook using ingredients that you know will be easy on your digestion. That means you can spend your trip having fun, not dealing with bloating or pain.
Now you know 8 ways that travelling with a kitchen can make your life easier and more enjoyable on the road. This is just one of the many benefits of hiring a campervan or motorhome for your Australia vacation. With your kitchen, you can save time and money, enjoy nutritious foods you love, and make sure that everyone in your family is happy and healthy for the duration of your trip!