Factors Which Impact the Cost of Motorhome Spaces in RV Parks
When you are planning a vacation in a motorhome or campervan in Australia, one of your steps will be finding motorhome parks where you can stay.
That is going to involve price comparison both between parks and within parks. You will probably notice a significant price differential during your search, sometimes even within a relatively small geographic area.
This can raise a lot of questions. Why is one park so much more expensive than another? And why are some spaces within a single park more expensive than other spaces in that same motorhome resort?
Let's go over some of the factors which can drive costs up or down for spaces in motorhome parks. That way, you will have some guidance to help you select both a park and a space which you can afford and which will provide you with the value and features you are looking for on your motorhome vacation.
Factors Which Impact the Cost of Motorhome Spaces Within a Park
First, let's go over factors which may lead to different pricing for different spots within a single resort. Depending on what you can and can't live without, you may be able to save a significant amount of money booking a less pricey space.
1. Available hook-ups
Within a single motorhome park, there may be differences in the hook-ups available between different spots. Some spots may include full hook-ups for cable, electric and plumbing. Others may include partial hook-ups. Still others may include no hook-ups at all.
Naturally, those spots which include full hook-ups are typically more expensive than those which include partial hook-ups or no hook-ups.
You will need to decide what comfort level you require while you're parked in your hired motorhome. While many vacationers feel that paying for hook-ups is worth it, others may feel that this is a luxury that they can go without.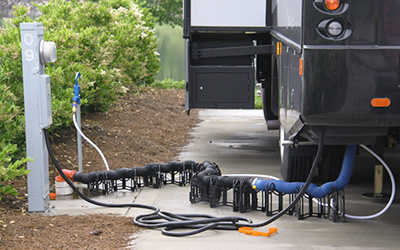 2. Proximity to attractive features
Another factor which commonly creates a price differential within a single motorhome resort is how close certain spaces are to attractions as well as the views that they offer.
For example, if a motorhome park is located on a riverbank, the spaces which are right along the river will usually be significantly more expensive than those which are all the way across the park.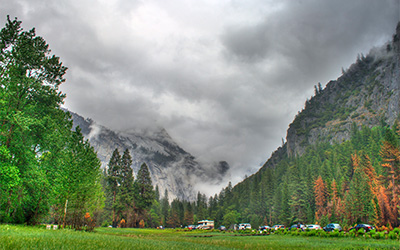 3. Size of the space
If you have chosen to hire a particularly large motorhome, you will need a large space in which to park it. Such a space may cost less than a smaller space to accommodate a smaller vehicle.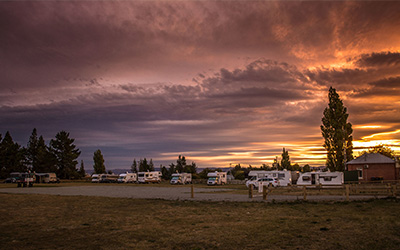 4. Arbitrary decree
Finally, it is not uncommon to come across price differences for spaces within an RV resort with no obvious explanation. It would seem that park owners sometimes have their own private, arbitrary reasons for pricing one space higher than another.
Not Sure Why a Space Costs More? Ask.
Many websites for motorhome resorts include a map which shows the locations of each of the spaces as well as what hook-ups they have available. Examining this information, you may be able to figure out on your own why one space carries a higher cost than another.
If you find yourself flummoxed about why a particular space has a higher price tag, you can always ask. If you do not receive a satisfactory answer, just pick another space.
Factors Which Impact the Cost of Motorhome Spaces from Park to Park
Now, let's talk about why some RV resorts are more expensive than others overall.
1. The same features listed above
The same factors which account for price differences within a single RV resort can also account for price differences between parks.
Say for example that one park features hook-ups for most spaces while another does not. All other factors being equal, you would expect the park with more hook-ups to charge more than the other.
Let's also say as another example that there are two motorhome parks located relatively close to the same river. One resort is located right on the bank, while the other doesn't even offer a view of the river. The park with the prime location on the bank will probably cost more.
2. Remoteness
Motorhome parks which are located in remote areas are often (but not always) less expensive than those with central locations. In particular, those with inconveniently long drive times with relation to stores, restaurants, and so forth may be less expensive to park at than those which are a stone's throw away from everything you'd need.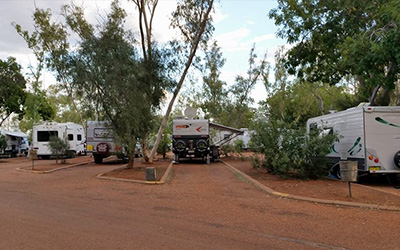 3. Amenities
Amenities featured within a park can also push up the price of the spaces that park offers. A fancy motorhome resort with a water park on the property, for instance, can easily get away with charging quite a bit more than a resort with nothing but a small souvenir shop on the premises.
4. Gentrification
Finally, a less tangible factor which can have a tremendous impact over motorhome space pricing is gentrification. There are many park owners who no longer want older motorhomes to park in their spaces, and who also want to discourage those who are not middle class or wealthy from staying (whether permanently or as vacationers) at all.
The easiest way to gentrify a motorhome park is to mark up the prices of the spots. This is especially easy to get away with if a park is located in either an urban setting or close to a popular tourist destination.
Not everybody chooses to do this, however. If you shop around, you may be able to find parks even in these high-demand areas which are much more affordable. Often, these parks are every bit as pleasant (and sometimes, more so). So you cannot necessarily judge a motorhome resort by its prices alone.
Conclusion: Motorhome Space Prices Vary Based on Many Factors
You now are familiar with some of the factors which can cause some motorhome spots to be much more expensive than others: proximity to attractions, hook-ups, space sizes, amenities, remoteness, gentrification, and more.
Make a list of what you are looking for in a park as well as in a space, and figure out your budget. Based on the two, research your options and conduct some price comparisons. Once you have found the best value for your money, you will be ready to hire a motorhome in Australia and make your booking!