The Best BIG4 Motorhome Parks in Australia
While you are exploring all that Australia has to offer, you are doubtless going to be spending some nights parked at motorhome parks across the continent.
You might think that any motorhome park is much the same as another—just somewhere to pull in, hook up, sleep, empty your dump tanks, and be on your way. But BIG4 motorhome parks are different.
BIG4 motorhome parks were designed to offer a true holiday getaway experience. That means enjoying the comfort and leisure options of a resort environment while you are parked in your campervan or motorhome!
Below are some of the top recommended BIG4 motorhome parks throughout Australia.
1. BIG4 Deniliquin Holiday Park
Quite a few of the motorhome parks operated by BIG4 have won prominent awards. One of the most renowned is Deniliquin Holiday Park, recipient of the Australian Tourism GOLD Award three years running. The park currently is listed in the Hall of Fame, and is one of a number of BIG4 parks to win a 2017 State Tourism Award.
Location:
You'll find the Deniliquin Holiday Park along the banks of the Edward River just outside Deniliquin itself.
What Makes It Awesome?
First of all, the Edward River is gorgeous, and offers plenty of leisure activities on its own. To those who love water-based fun, though, the park offers so much more in the form of a Splash Water Park, complete with a giant water bucket and a heated waterslide.
The resort also has a Pontoon Boat which you can hire. Cruise up and down the river, taking in the scenery, and be sure to grab your water-skis.
If you are ready to get back on dry land, you can play a round of mini-golf right on the grounds, or you can barbecue with your friends and family.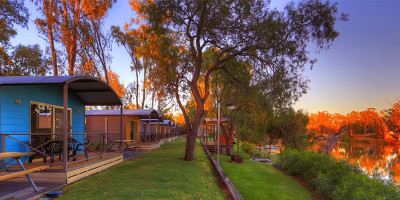 2. RAC Cervantes Holiday Park
The RAC Cervantes Holiday Park won the Silver Australian Tourism Award in 2017, placing just behind the Deniliquin Holiday Park.
Location:
This holiday park is located right on the coastline, squeezed in between the ocean and Nambung National Park north of Perth. This makes it the perfect staging ground for your adventures exploring the park. You'll gasp in awe at the spectacular limestone pillars and the other distinctive features which make Nambung so remarkable.
When you're ready to come back to your motorhome and relax at the end of the day, you'll have a beautiful and serene resort environment waiting to welcome you.
What Makes It Awesome?
One of the biggest draws to RAC Cervantes Holiday Park is obviously its location. But this award-winning park has a lot of other great features and amenities to recommend it as well.
After a day at Nambung, you'll love a chance to leap into the cool, refreshing waters of the holiday park's swimming pool. Kids have a playground to keep them entertained while you cook up dinner on the barbie. Play some pool or table tennis in the evening for even more family fun.
3. BIG4 Adventure Whitsunday Resort
Placing just after the RAC Cervantes Holiday Park, the BIG4 Adventure Whitsunday Resort won a Bronze Australian Tourism Award in 2017, making it another of the most highly rated BIG4 parks in Australia.
Location:
BIG4 Adventure Whitsunday Resort is located on the Queensland coast between Mackay and Townsville right next to Conway National Park with the Cumberland Islands just offshore. If you are looking to explore the forested hills and beautiful beaches which make this area so picturesque, you'll find no better spot to turn in for the night.
What Makes It Awesome?
This is pretty much the ultimate motorhome park for anyone who loves swimming pools and water parks. The pool measures 32m and is shaped to resemble a lagoon. The water park has a total of 13 slides which are fun for the whole family along with a tipping bucket. With palm trees rustling overhead, you'll feel like you've been whisked away to a tropical Eden.
The water slides and Lagoon Pool alone would be enough to make this a standout holiday park, but there is even more awaiting you at this destination. There are landscaped gardens and scenic walks for you to explore, a tennis court where you can play, a mini golf course, a kids club, and even the chance to get a professional massage (very relaxing after a day at the beach or hiking in the nearby national park).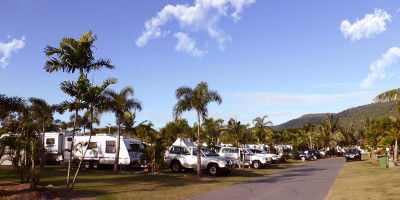 4. BIG4 MacDonnell Range Holiday Park
This is another BIG4 holiday park which received a 2017 State Tourism Award. This is just one of the many awards the park has received. According to BIG4, it is the "most awarded tourist park in the Northern Territory."
Location:
With its location just south of Alice Springs, it is close to a number of area attractions. These include the Emily and Jessie Gaps Nature Park, the Alice Springs Telegraph Station Historical Reserve, the Ilparpa Swamp Wildlife Protected Area, the Alice Springs Desert Park, the Owen Springs Reserve, and the West MacDonnell National Park.
What Makes It Awesome?
This park offers plenty of shade trees—a very welcome feature in this location. You can explore landscaped gardens, gazing through the trees to the mountains beyond. If you need a refreshing dip, a swimming pool awaits you. Because it is not right next to the highway, you can also count on this park to be quiet.
It's also worth mentioning that if you are planning to stay at the park on a weekend, you're in luck. Every Sunday morning, the park hosts a Pancake Breakfast! This is a popular event, and a great way to fill up for a fun day touring the area.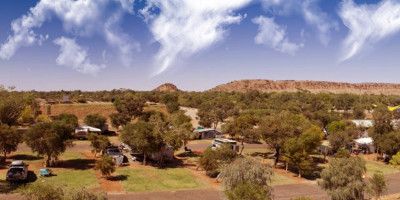 5. BIG4 Launceston Holiday Park
We've shared a lot of popular and highly rated BIG4 parks which provide you with access to some of Australia's beautiful natural areas. But what about an urban park? You might want to consider the award-winning BIG4 Launceston Holiday Park if you have an itch to explore the city.
Location:
This park is of course located in Launceston. There is so much to see and do in this bustling city. Visit the City Park, tour the Queen Victoria Museum and Art Gallery, or get up close and personal with some of the animals which call the island home at the Tasmania Zoo. There are of course also abundant shopping and dining options!
What Makes It Awesome?
You are right in the heart of one of Australia's most beautiful and fascinating cities when you stay at this BIG4 park. You can walk to the town centre in a matter of minutes to experience the best of what Launceston has to offer. While you are at the park, you can look forward to conveniences like free wireless internet and the top-shelf hospitality you can expect at any BIG4 holiday destination.
Book a Reservation At Any of These BIG4 Holiday Parks Today
Adventure abounds throughout Australia. When you stay at any of these BIG4 Holiday Parks, you'll discover that plenty of exhilarating activities await you right at your motorhome park. But you'll also get the relaxation and rest you need to continue to make the most of your vacation. Hire a motorhome today, and place your reservation at one or more of these award-winning parks!