The Benefits of Hiring a Motorhome over a Campervan or 4WD Camper
Planning a road trip across Australia in a rented motorhome, campervan, or 4WD camper? If so, you are about to embark on an epic adventure. There truly is no better way in which to immerse yourself fully in Australia's spectacular natural beauty and explore off the beaten track. Best of all, you can save money renting a campervan, 4WD or motorhome, because you no longer need to worry about paying expensive hotel bills or eating out every day.
But how do you know which type of vehicle is right for you? Motorhomes rentals are more expensive than campervans—but are they worth it? 4WD vehicles are also expensive, but they offer you the opportunity to go off-roading. So what are the major advantages of a motorhome over the other two types of vehicles?
1. Motorhomes are larger and more comfortable.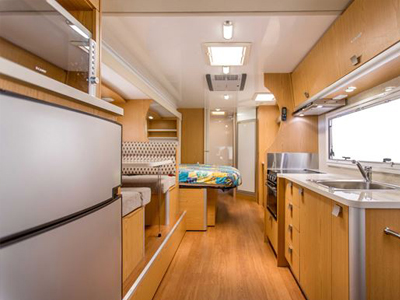 One of the most obvious reasons to consider a motorhome despite the higher price tag is the fact that it gives you a lot of extra space. Technically, motorhomes and campervans are closely related, but one of the key distinctions between the two is size. Even a smaller motorhome is usually going to give you more living and storage space than a campervan.
This means that you can store more luggage, and that you can more comfortably accommodate a larger group. Because you can bring more baggage, this also may make a motorhome a more suitable option for a trip with a longer duration.
2. You can sleep more people in a motorhome.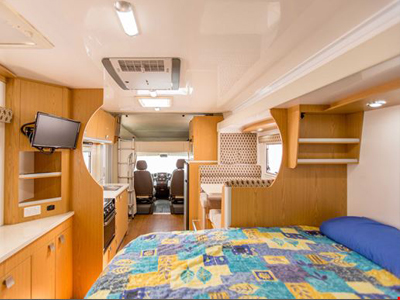 All of that extra space in a motorhome means that there is also more room for people to sleep. Some of the larger high-top campervans may be able to sleep as many as five passengers, but low-top models usually only can sleep two or three. Small motorhomes may also only include a couple of berths, but four or six sleeping areas are both common configurations in larger motorhomes.
Because there are more sleeping areas and more space in general, a motorhome is an excellent choice if you are travelling with a family, especially if you have several children. A campervan might be a bit too cramped for your entire family.
3. You have all the comforts of home, including a shower and toilet.
Another reason that motorhomes are a great choice for family travel is because they are comfortable enough that even the fussiest travellers are unlikely to complain.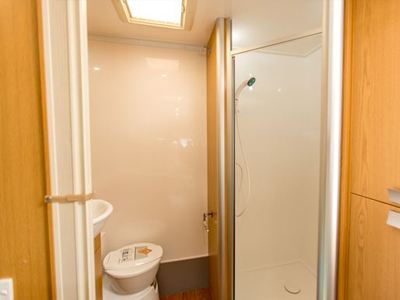 They tend to offer more in the kitchen, including not just a sink and fridge/freezer (the features most common in campervan kitchenettes), but also a stove, oven and microwave. Along with a cosy dining nook, a fully featured kitchen makes it easy to prepare and enjoy "home cooked" meals.
Then there is the matter of a shower and toilet. These two features are not common in campervans or 4WD campers. One or both may be available in high-end models (typically an outdoor shower if anything), but for the most part, with either type of vehicle you are going to be going without.
Motorhomes on the other hand usually do have shower and toilets, both located indoors. That means you are not stuck relying on park facilities for bathing, and you can enjoy a toilet which flushes even if there are no bathrooms at all in the campground where you are parked.
4. There is more privacy.
Finally, one more advantage of a motorhome over the other two types of rental vehicles is increased privacy. Motorhomes are usually large enough that their sections can be divided off into "rooms" with privacy screens. You can use these to partition off the bedroom as well as the bathroom from the rest of the rig. This is yet another reason why they are ideal for family or group travel.
Remember, there is no one "right" choice for everyone when it comes to choosing a vehicle to hire. You need to make your decision based on your needs. Maybe after reading this article, you already know a motorhome is the perfect option for you—but maybe not. Perhaps a 4WD camper or campervan would serve you better on an Australian adventure. Check out our articles on the benefits of campervans and 4WD campers to learn more about these two vehicle types. Once you have read up on the advantages of all three, you will be ready to pick the best one for your vacation!