The Ultimate Guide to Recreational Vehicles: Campervans, Motorhomes, and 4WD Campers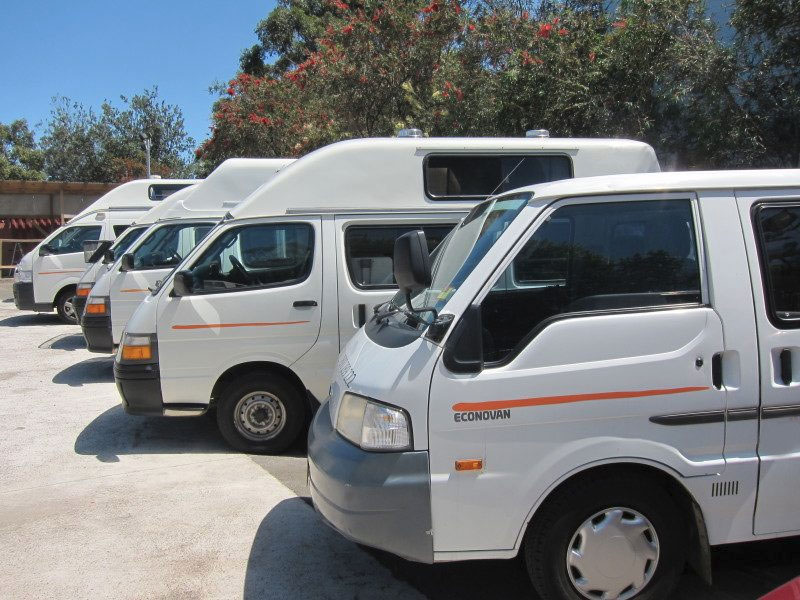 Thinking of renting a recreational vehicle?  There are few better ways to take in the sights Down Under than by hitting the road!  The vehicle you choose will have a huge impact on your experience.  Each type offers different options for sleeping, cooking, dining, and comfort.  Let's take an in-depth look at the different options available, their features, and pros and cons.  You'll then be able to make the perfect rental choice for your next vacation!
Station Wagon
If you are looking for a simple, low-cost, no-frills option which is ideal for one or two travelers or a small group (up to five), then a station wagon may be the perfect option.  A station wagon can comfortably seat two people in the front and up to three in the back.  During the day, the back can be used to store a tent and supplies.  At night, it can be converted into a double bed.
Plenty of storage space for luggage
A compact option
While there is no fridge or sink, you can easily travel with cooking gear
Sleep inside the vehicle or set up a tent
Easily one of the most cost-effective options you are ever going to find for touring Australia in a recreational vehicle. View the world up close and personal
Customize your sleeping setup to your needs
Park wherever you like.  No expensive fees to park a large motorhome.  You can even park for free in many locations
Driving a station wagon could not be easier.  It's not an oversized vehicle, and you may already be used to driving one
There is no fridge or freezer, so you cannot bring perishables
There is no sink either, so you will need to find a spigot to wash dishes
There are no showers, so you will need to stop in at park showers to bathe yourself
Only two people can sleep inside the vehicle
Small groups, pairs, or individual travelers
Travelers on a budget who want to save on recreational vehicle rental costs and on overnight parking
Campervan
This is another popular compact option for hitting the road.  A campervan, also sometimes known as a camper or caravanette, is exactly what it sounds like.  It's a van which is outfitted with furnishings, storage space, and a sleeping area.  Some campervans even include kitchenettes, showers, and toilets (rare).
There are two main types of campervans:
Low Top Campervan
High Top Campervan
The difference is exactly what you might imagine.  A "low top" campervan has a lower roof, while a "high top" campervan offers extra vertical space.  You can stand up comfortably in a high-top model, though a low-top model may be more budget-friendly.
High-top campervans also tend to be better equipped than their low top cousins, and they can sleep more people.  Low-top campervans usually sleep two, whereas high-top models may include up to five berths.  With a low-top model, you will have a sink or fridge, usually in the back, and you won't be able to stand up fully.  You also may only be able to sleep in the back, not sit.
If you rent a high-top model, you will be able to stand up fully (you may need to crouch a little if you are tall).  There is usually a full dining area in the back where you can sit, and you can sleep at the top or bottom.  The fridge and microwave are usually located up  near the front of the vehicle.
The majority of campervans do not offer a toilet or shower, but a few high-top models do.
Compact; easy to park and drive, even if you aren't used to driving recreational vehicles
High-top and low-top models give you different options in terms of budget, features, and sleeping space
You get a fully functional kitchenette
There is plenty of storage space
Up to five people can sleep inside the vehicle.
You can dine inside a high-top campervan
You have next to everything you need to live comfortably on the road with a campervan.  This is true with a high top or low top model.
Campervans are budget-friendly alternatives to motorhomes.
You still will have no toilet or shower, so you will need to use external facilities.
Small groups of up to five travelers, pairs, or individual travelers looking for some extra comfort.
Travelers on a budget who are looking for a cheap alterative to a motorhome.
Motorhome
Like the idea of traveling in a campervan, but looking for more luxury and comfort?  A motorhome is very much like a campervan, but it offers you a lot more in the way of space and features.  In fact, just as the name "motorhome" implies, many people are full-time RVers living in motorhomes.
What's the Difference Between a Motorhome and a Campervan?
Good question.  The two terms are sometimes used interchangeably, and there is some ambiguity between them.  Generally speaking, however, a motorhome is a larger vehicle and is self contained (all liquids such as water and waste are stored under the cabin). Motorhomes tend to be more comfortable and include more features, such as a toilet and shower inside the vehicle.
Typically two, four, or six berths
Plenty of living space including a full dining area and a sitting room
A fully functional kitchenette, including a sink, fridge, freezer, oven, and stovetop
Even more storage space than you would get with a campervan
A fully functional toilet and shower (this is a special feature that distinguishes a motorhome from a campervan.  It is what allows the motorhome to function as a self-contained unit, thus making it a home—or in this case, a vacation home on wheels)
A motorhome has pretty much everything you could possibly need in terms of features.  You can cook and clean in the motorhome, eat, shower, use the bathroom, and sleep in total comfort.
Screens can be pulled between the bedroom, bathroom, and main living spaces to offer privacy
Since you have a lot more space, you can bring along more luggage, luxuriate in total comfort, and sleep more passengers
Your motorhome will really become your home-away-from-home on the road!
Because motorhomes are large vehicles, getting used to driving one can take some time.  Don't worry, you don't need a special license, but you will have to get used to making those wide turns
It can be more expensive to park a motorhome.  You have to actually park in spaces designed for larger vehicles, so you can't stay just anywhere
A motorhome will cost significantly more to rent than a campervan or station wagon
Larger groups or those who want more space
Travelers with bigger budgets who are searching for more in terms of comfort
Anyone who will be taking a longer vacation and who really wants to feel at home on the road
4WD Camper
Why settle for hitting the road when you can also journey off-road?  With a 4-wheel drive (4WD) camper, you can!  These vehicles are perfect for going off the beaten track and exploring Australia's backcountry on unsealed roads.  Many models are roomy enough that you can sleep inside; others require you to set up a tent or sleep on the roof.

Compact for easy travel with 4-wheel-drive for an off-roading adventure like no other
Some models include expandable tents and pop-up roofs for additional sleeping space, storage, and facilities
Outdoor cooking gear is included with many 4WD campers.  Some models may also include a portable fridge, and in rare cases, a portable toilet and shower as well
With a 4WD camper, you can travel on roads which you would not be able to access with a motorhome or standard campervan.  That means you can see more of what Australia has to offer.  A lot of the most amazing natural beauty in Australia is quite remote, so 4-wheel drive is the way to go!
You can cook while you are on the road, and sleep in the camper or in a tent.  With some models, you can even use the toilet and the shower and bring along perishables
Some models include extra large fuel tanks so you can travel further without stopping in at a gas station
Many 4WD campers are very comfortable, but still don't offer the space and facilities that you get with a motorhome
Higher rental prices due to the higher insurance liabilities on 4WD vehicles
Individuals, couples, or small groups in search of a 4-wheel-drive adventure in Australia's outback
You should now have a great idea which type of recreational vehicle will offer you the space, convenience, and comfort you are looking for on your road trip Down Under!  Still looking for suggestions?  Give us a call at 02 8488 6893 and we'll hook you up with the perfect campervan rental for your dream vacation!